France: Business Climate Edges Up But Short-term Outlook Looks Grim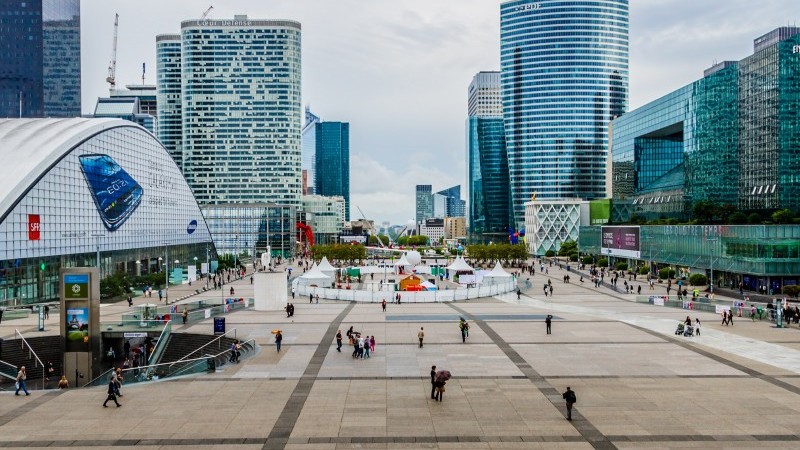 France's La Defense Business District
The business climate in France (EWQ) improved slightly in January thanks to a good performance in industry and wholesale trade. Services and retail trade continue to suffer from the current health restrictions. The outlook for the first quarter is more uncertain than ever.
Industry and wholesale trade drive business climate up
The business climate indicator in France improved slightly in January compared to December, with the index rising from 91 to 92. This slight increase is due to an improvement of the business climate in industry (the index having risen from 94 to 98 in one month) and in wholesale trade (from 86 to 94 in two months). In both sectors, the business climate reached its highest level since March, a sign of an almost uninterrupted recovery of the economic situation since the April lockdown. The November lockdown, which mainly affected the service and retail sectors, had almost no impact on the steady improvement in business sentiment in industry and wholesale trade. However, the business climate indices for these two sectors are still below their long-term average and pre-crisis levels. In view of the restrictive measures currently in place in France (curfew, closure of bars, restaurants, cultural and sports venues and ski lifts), these sectors will probably continue to perform better than services and retail trade in the coming months. They therefore remain the driving forces behind the French economy at the present time.
It should be noted, moreover, that with specific regard to the industrial sector, the quarterly surveys reveal that the rate of production capacity utilization, a good indicator of the imbalance between supply and demand, increased slightly between October and January to reach 79%. On this indicator too, the progression has been constant since the beginning of the pandemic and the November lockdown has not had a negative impact. Nevertheless, the situation has deteriorated compared to the pre-crisis level (83).
Disclaimer: This publication has been prepared by ING solely for information purposes irrespective of a particular user's means, financial situation or investment objectives. The information ...
more