Forex Volatility: USD/MXN Climbs As Key Official Urzua Resigns
The Mexican Peso remains under pressure after Carlos Urzua, Mexico's Minister of Finance, abruptly resigned from his post and the President Andreas Manuel Lopez Obrardor's (AMLO) administration. USDMXN jumped sharply immediately after news crossed the wires that Urzua suddenly stepped down from his post with the Peso being weighed down by negative speculation over Mexico's economic and political affairs.
With a top official like Minister of Finance resigning unexpectedly, it raises the question about political stability within Mexico. President AMLO has been under increasing scrutiny as he continues to fall short of campaign promises and economic benchmarks and former Minister of Finance Urzua was a stark critic of Mexico's leader.
In Urzua's resignation letter posted on his Twitter account, he stated "there have been many discrepancies in economic matters," adding that policy decisions being made within AMLO's administration were done "without sufficient foundation" and should instead "be based on evidence" and "free from all extremism."
SPOT USD/MXN IMPLIED VOLATILITY: DAILY TIME FRAME (JANUARY 01, 2019 TO JULY 10, 2019)
(Click on image to enlarge)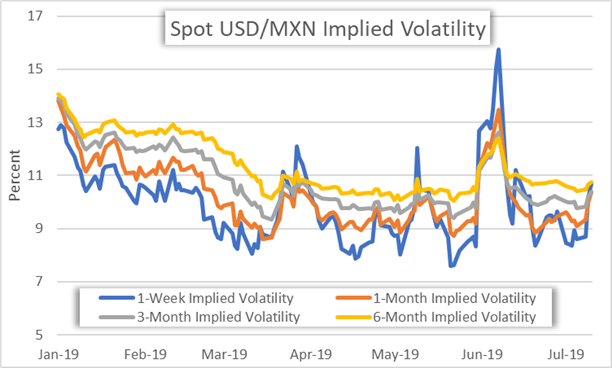 USDMXN implied volatility readings across various tenors have spiked to multi-week highs in response to growing uncertainty in Mexico with the metrics gearing up to keep climbing. A string of downbeat developments like Mexico GDP contracting by 0.2% reported at the end of April and Banxico cutting GDP outlook later in May – in addition to President Trump threatening Tariffs on Mexico and the recent reshuffling of Mexico's finance minister – all seem likely to keep spot USDMXN bid despite bearish US Dollar fundamentals surrounding Fed rate cut expectations.
USD/MXN PRICE CHART: 4-HOUR TIME FRAME (MAY 30, 2019 TO JULY 11, 2019)
(Click on image to enlarge)