Expanding My Trade Peace Portfolio
This morning, U.S. Treasury Secretary Steven Mnuchin mentioned that an effort was being made to get trade talks with China back on track. The Dow soared 160 points in a heartbeat.

Past murmurings by the Treasury Secretary demonstrate that his musings have zero credibility in the marketplace and the move vaporized in minutes. However, given the extreme moves made by the shares of trade war victims, I think it is time to review my "Trade Peace" portfolio and make some additions. The shares have been so beaten up that I think you can start scaling in now with limited downside and a ton of potential upside.

It's not a matter of if, but when Trump has to run up the white flag with his wildly unpopular trade wars. As they now stand, the new tariffs are threatening to chop $10 off of S&P 500 earnings in 2018, from $168 down to $158, according to J.P. Morgan. Some two-thirds of all U.S. companies have been negatively impacted. Tariffs have effectively wiped out the benefits of the corporate tax cuts for most companies enacted last December. Who has been the worst hit? Thousands of small manufacturers in Midwest red states that can't function because they are missing crucial cheap parts they can only obtain from the Middle Kingdom.

At last count there are a staggering 37,000 applications for exemptions from tariffs filed with the U.S. Treasury and only a dozen people to process them. A mere 10% have been granted. It is a giant bureaucratic nightmare. With the midterm elections now only 37 trading days away, the clock is ticking. If Trump doesn't cut trade deals with all of our major counterparties around the world before then, the Republican Party stands to lose both the House of Representatives and the Senate on November 6. That will make Trump a "lame duck" president for two more years.

China Technology Stocks – Includes Alibaba (BABA), Baidu (BIDU), and Tencent (TCTZF). It's not often that you get to buy a company with 61% sales growth, which has seen its shares plunge by 27% in three months, as is the case with BABA. Just to get BABA back up to its June level it has to rise by 37%. This is a stock that will easily double or triple over the long term.

U.S. Semiconductor Stocks – With China buying 80% of its chips from the U.S., stocks such as Micron Technology (MU), Lam Research (LRCX), and KLA-Tencor (KLAC) have been taken out to the woodshed and beaten senseless. Micron is off a withering 41% since the trade war began in earnest in May.

Emerging Markets – China is the largest trading partner for most of the world, and a recession there sparks a global contagion effect. Reverse that, and you stimulate not only emerging markets, but the U.S. economy, too. Look at the charts for the iShares MSCI Emerging Markets ETF (EEM), the iShares China Large-Cap ETF (FXI), and the iShares MSCI Brazil ETF (EWZ) and you will salivate.

Oil – Boost the global economy and oil demand (USO) also. China is the world's largest incremental buyer of new oil, and it will absorb all of the Iranian crude freed up by the U.S. abrogation of the treaty there.

Agricultural – No sector has been punished more than agriculture, where profit margins are small, lead times stretch into years, and mother nature plays her heavy hand. In this area you can include soybeans (SOYB), corn (CORN), and wheat (WEAT), as well as equipment makers Caterpillar (CAT) and Deere (DE).

Some 20 years of development efforts in China by American farmers have gone down the toilet, and much of this business is never coming back. Trust and reliability are gone for good. Storage silos across the country are full. Did I mention that red states are taking far and away the biggest hit? There are not a lot of soybeans grown in California, New York, or New Jersey.

Even if Trump digs in and refuses to admit defeat, as is his way, there is still a light at the end of the tunnel. Sometime in 2019, the World Trade Organization will declare virtually all of the new American tariffs illegal and hit the U.S. with its own countervailing duties. This is the Chinese strategy. Waiting for them to fold could be a long wait, a very long wait.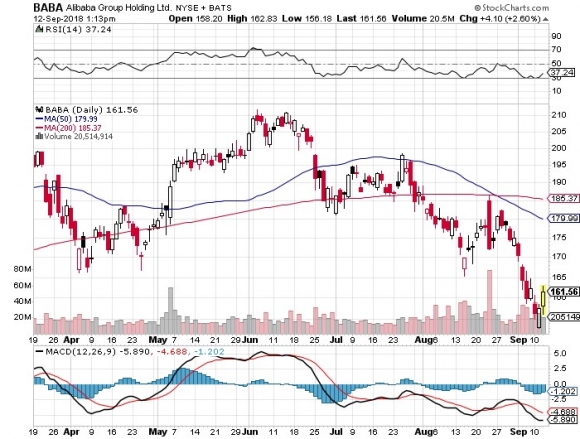 The Diary of a Mad Hedge Fund Trader, published since 2008, has become the top performing trade mentoring and research service in the industry, averaging a 34.84% annual return for ...
more