EUR/USD Ready To Break 1.22, Yet The Fed, Brexit, Stimulus And Virus Loom
EUR/USD has been grinding higher after the ECB decision and amid multiple negotiations.
The final Fed decision of the year and coronavirus headlines stand out.
Mid-December's daily chart is showing the pair has more room to rise.
The FX Poll is pointing to falls on all timeframes.
There is no good without bad – the ECB has given its shot in the arm and the vaccine is coming, yet virus numbers continue rising and both Brexit and US stimulus talks are stuck. The Federal Reserve's decision competes with politics in the last full trading week of a turbulent 2020.
This week in EUR/USD: Between hope and fear
The European Central Bank delivered its pledge to add stimulus via expanding its bond-buying scheme by €500 billion and through March 2022. Moreover, the Frankfurt-based institution left its language on the exchange rate unchanged, only saying it is "monitoring" it. While the ECB looks unfavorably at the rise of the euro – which depresses inflation and weak exports' attractiveness – it seems unwilling to act.
ECB President Christine Lagarde allowed the euro to rise, yet it was not enough to trigger new highs as other developments weighed on the currency pair.
The focus in the US was around fiscal stimulus. After the weak Nonfarm Payrolls figures seemed to push politicians to action, cheering markets, doubts about a deal crept in later on. Mitch McConnell, the Senate Majority Leader, is reluctant to support a relief package worth close to $1 trillion. The sluggish talks in Washington weighed on sentiment and contributed to curbing EUR/USD's advance.
Additional support from Uncle Sam is of higher urgency also due to new records in daily coronavirus cases, deaths and hospitalizations – with the latter's seven-day moving average topping 100,000.
German COVID-19 infections remained stubbornly high and prompted preparations for additional restrictions. France, which had enjoyed a downturn in infections, saw the rapid improvement halt and consequently considers halting the reopening process.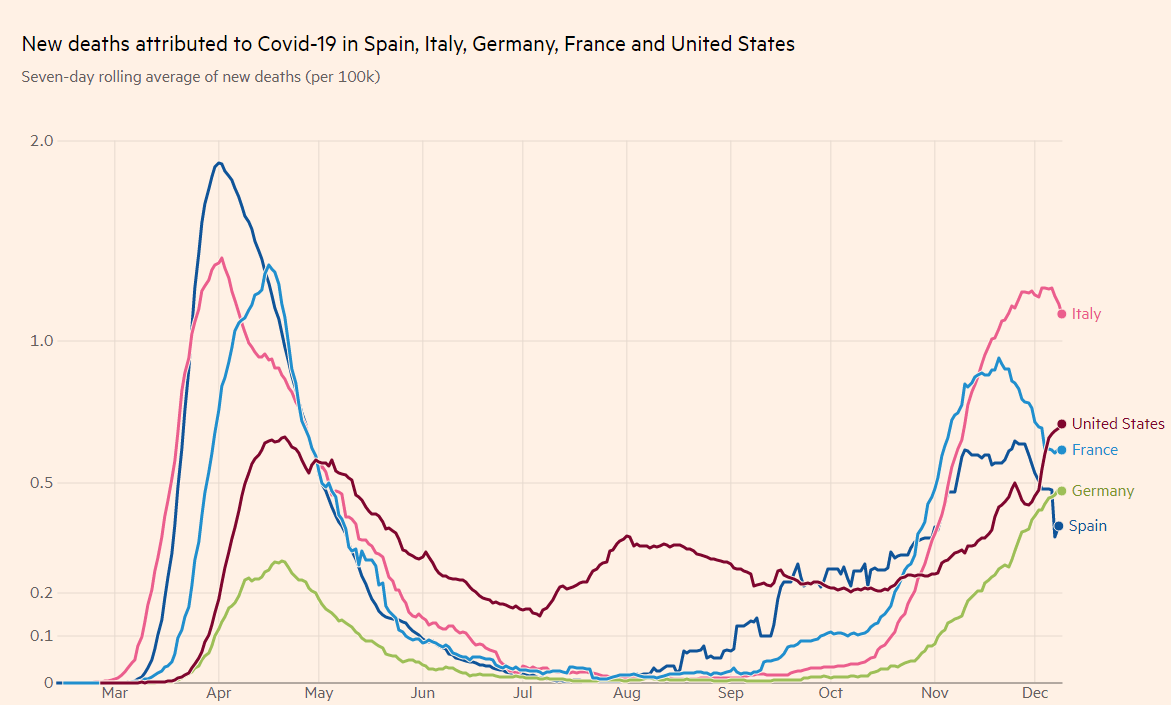 Source: FT
On the positive side, the UK began administering the Pfizer/BioNTech vaccine without major incidents. The US Food and Drug Administration (FDA) also authorized the jabs' emergency usage, providing hope.
Disclaimer: Foreign exchange (Forex) trading carries a high level of risk and may not be suitable for all investors. The risk grows as the leverage is higher. Investment objectives, risk ...
more