EUR/USD: Nonfarm Payrolls And Biden Set To Deal Another Blow To Virus-Ravaged Euro
EUR/USD has been under pressure due to Europe's slow vaccination campaign and dollar strength.
US Nonfarm Payrolls and further jab jitters are set to rock markets.
Late March's daily chart is painting a mixed picture.
The FX Poll is pointing to short-term losses and fresh gains later on.
The perfect spring storm – Europe's worsening covid conditions and another upcoming US infrastructure boost have kept immense pressure on EUR/USD. Will it continue? Nonfarm Payrolls and immunization issues stand out as March draws to an end.
This week in EUR/USD: Vaccine nationalism and breaking correlations
Coronavirus issues from A to Z: COVID-19 cases are rising in the old continent, and it has been weighing on the euro. After Italy and France imposed new restrictions on most of their populations, Germany extended its lockdown through April 18 – yet backtracked on slapping "quiet days" around Easter. The British B 1.1.7 variant is hitting the continent hard.
Infections are rising in Europe: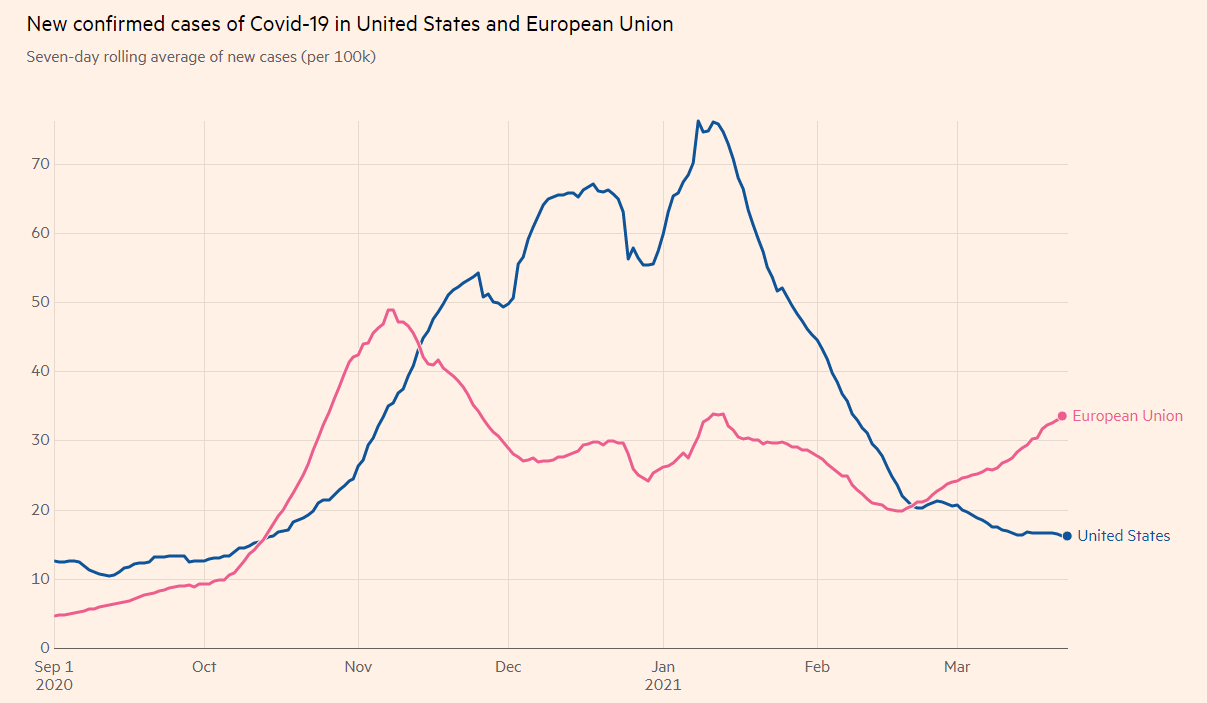 Source: FT
While the current lockdowns mean a return to normal will have to wait, Markit's Purchasing Managers' Indexes for March showed businesses are seeing through the current hardship and looking toward recovery.
The EU has continued clashing with the UK around AstraZeneca's vaccines. After the European Medicines Agency gave the green light to the jabs, Brussels threatened to hold back shipments of doses made in the continent to Britain. Tensions have intensified as Europe continues lagging behind both the UK and the US in vaccinations.
Europe's large economies have inoculated barely 10% of their populations: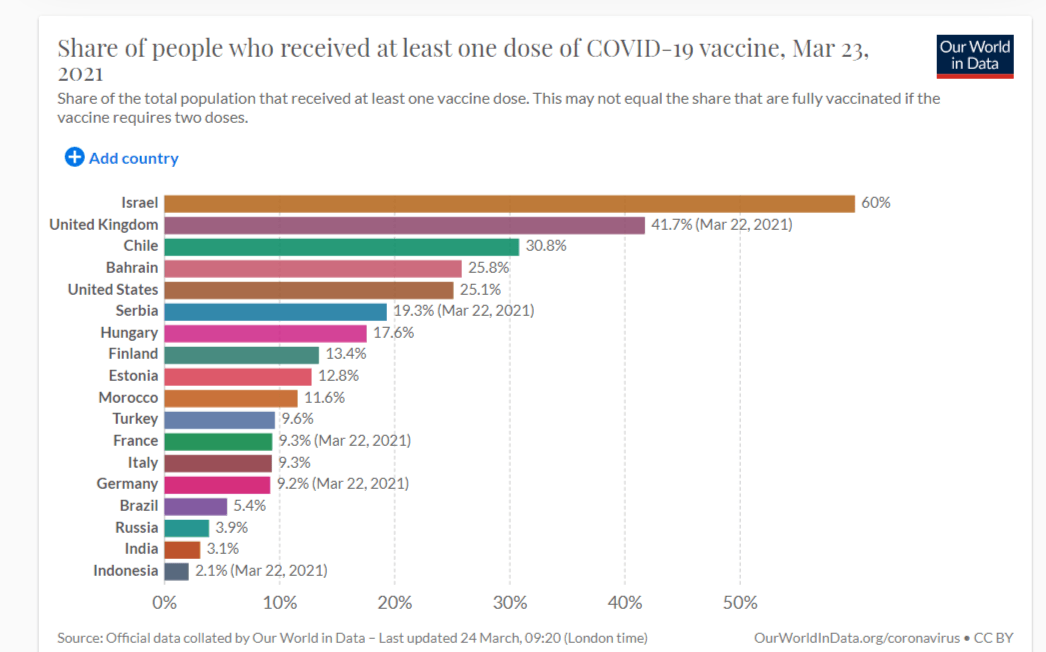 Source: OurWorldInData
Coronavirus: Statistics, herd immunity, vaccine calendar and impact on financial markets and currencies
On the other side of the pond, Treasury yields took a breather from rising, but President Joe Biden's new plans have been boosting the dollar. According to reports, the White House's new infrastructure spending program will be gargantuan – $3 trillion dollars – but funding would partially come from tax hikes.
Disclaimer: Foreign exchange (Forex) trading carries a high level of risk and may not be suitable for all investors. The risk grows as the leverage is higher. Investment objectives, risk ...
more