EUR/USD Breaks Out Of Holding Pattern On Lackluster U.S. NFP Report
EURO TALKING POINTS
EUR/USD breaks out of a near-term holding pattern as the U.S. Non-Farm Payrolls (NFP) report instills a mixed outlook for growth and inflation, and the euro-dollar exchange rate stands at risk of staging a larger advance as it extends it the bullish sequence from earlier this week.
EUR/USD BREAKS OUT OF HOLDING PATTERN ON LACKLUSTER U.S. NFP REPORT

Updates to the NFP report showed the U.S. economy added another 213K jobs in June amid projections for a 190K print, while the Unemployment Rate unexpectedly climbed to 4.0% per annum from 3.8% during the same period as the Labor Force Participation Rate widened to 62.9% from 62.7%.
At the same time, Average Hourly Earnings fell short of expectations as the gauge held steady at 2.7% for the second consecutive month, and the fresh data prints may do little to encourage a more aggressive hiking-cycle as the Federal Open Market Committee (FOMC) pledges to 'assess realized and expected economic conditions relative to its maximum employment objective and its symmetric 2 percent inflation objective.'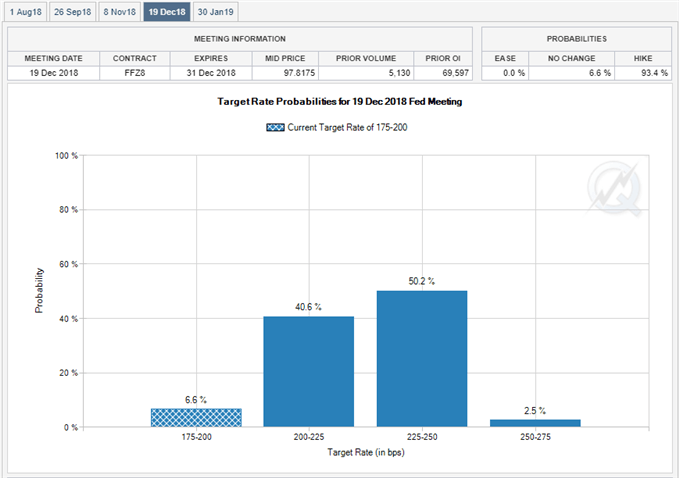 Keep in mind, there seems to be little in the way for the FOMC to deviate from its current course as Fed Fund Futures reflect a greater than 70% probability for a September rate-hike, with market participants leaning towards another 25bp rise in December, and central bank officials may continue to project a longer-run neutral rate of 2.75% to 3.00% as 'almost all participants expressed the view that it would be appropriate for the Committee to continue its gradual approach to policy firming.'
However, the FOMC appears to be in no rush to extend its hiking-cycle as 'participants commented on a number of risks and uncertainties associated with their outlook,' and Chairman Jerome Powell may strike a more balanced tone in front of Congress as the central bank head is scheduled to deliver the semi-annual Humphrey-Hawkins testimony next week. In turn, a batch of less-hawkish comments may sap the appeal of U.S. dollar, with EUR/USD at risk of exhibiting a more bullish behavior over the coming days as it carves a series of higher highs & lows.