Eurozone: The Underachiever
Stronger industry & construction, weak services
Source: Refinitiv Datastream
Inflation to top 2%
Meanwhile, inflation remained at 0.9% in February, with core inflation at 1.1%. Because of base effects in energy prices, combined with likely price increases in the services that reopen and the full swing of the German VAT reversal unfolding from July onwards, we now expect inflation to top 2% over the summer months. Though most of these effects will disappear in 2022 and for the time being there's little reason to expect a wage-inflation spiral, underlying inflation might remain slightly above 1% beyond 2021. We expect an above-consensus 1.8% inflation rate this year and 1.5% in 2022 (compared with average inflation of 1.0% in 2016-2020). In other words, a little upward drift that the ECB is likely to welcome, but still at the low end of the ECB's inflation objective.
Oil prices will push inflation higher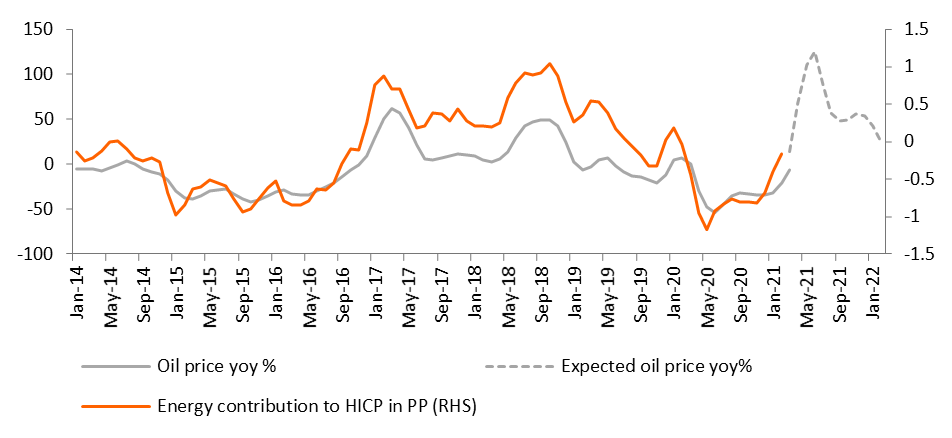 Source: Refinitiv Datastream
Yield curve steepening
Through different speeches, the ECB has given some colour on what it is looking at in order to maintain favourable financing conditions - though some might call it too colourful to fully distil the ECB's reaction function. In our view, the GDP-weighted sovereign bond yield curve could be a key element in determining overall financing conditions. However, it would not be easy for the ECB to actually reshape this yield curve. For ECB Executive Board member Isabel Schnabel it is clear that "a rise in real long-term rates at the early stages of the recovery, even if reflecting improved growth prospects, may withdraw vital policy support too early and too abruptly given the still fragile state of the economy. Policy will then have to step up its level of support". In other words, the ECB will continue to lean against the US-induced upward push in bond yields, through its Pandemic Emergency Purchase Programme. That said, we continue to expect the recovery to lead to some curve steepening, with the German 10yr bond yield likely to leave negative territory by the first quarter of 2022.
Disclaimer: This publication has been prepared by ING solely for information purposes irrespective of a particular user's means, financial situation or investment objectives. The information does ...
more