Eurozone SMEs Manage For Now But Their Finances Will Get Worse
Eurozone availability of finance for SMEs
Source: ECB SAFE, ING
The biggest increases in the availability of bank facilities were reported in Spain, Italy, and France. Those are indeed the countries that saw the biggest bank lending growth this year. SMEs in the Netherlands and Belgium reported reduced availability of bank facilities, though this should be put in the context of relatively low financing needs reported in these countries (see above). Indeed the "financing gap", which is the difference between financing needed and obtained, widened everywhere, but the least in the Netherlands, Germany, and Belgium. Moreover, obtaining finance remained "the least of my worries" for most SMEs. Finding customers and the right employees remain top concerns.
Most pressing SME problem
Source: ECB SAFE, ING
Asked why the availability of finance changed, eurozone SMEs overwhelmingly pointed to the much deteriorated general economic outlook and reduced prospects for their own firm. Government measures, including guarantee schemes, mitigated the impact. Banks generally remained willing to lend, according to SMEs.
It ain't over till the mass vaccine stings
SMEs are understandably pessimistic about the expected availability of finance in the near future. Dutch SMEs are least pessimistic about this. On balance, they expect reduced availability of bank facilities to be almost fully compensated by other sources, mainly increased security issuance and equity investment. Italian SMEs are also not overly pessimistic. The biggest SME pessimists can be found in Spain, Greece, and… Germany. The last one is a surprise, given that the German government has implemented relatively generous support facilities, and also given that German SMEs report one of the lowest needs for finance in the eurozone (see above).
SME expected availability of finance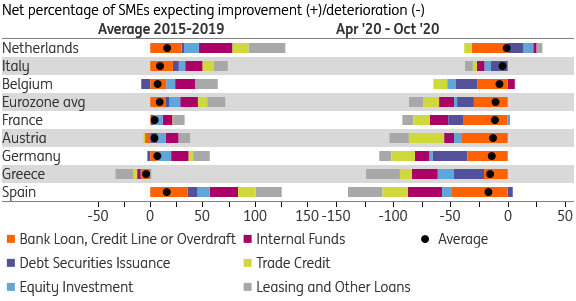 Source: ECB SAFE, ING
The ECB Survey on Access to Finance of Enterprises confirms that efforts to keep financing available for businesses in the eurozone generally worked well. The gap between funding needed and sources available did widen, but only by a moderate amount, taking the size of the economic impact into account. SMEs reported much bigger financial problems back in 2010-2012. That said, providing liquidity to businesses has attended to immediate financing needs, but does not address solvency issues. This is perhaps the biggest item on the financial to do-list. Moreover, familiar rifts within the eurozone have opened up again, with SMEs in the North generally reporting low financing needs, and those in the South reporting bigger impacts on turnover and correspondingly higher demand for finance.
Disclaimer: This publication has been prepared by ING solely for information purposes irrespective of a particular user's means, financial situation or investment objectives. The information ...
more