Eurozone SMEs Manage For Now But Their Finances Will Get Worse
Policy measures propping up funding to eurozone SMEs have worked well, but all-too-familiar eurozone rifts between North and South are opening up again.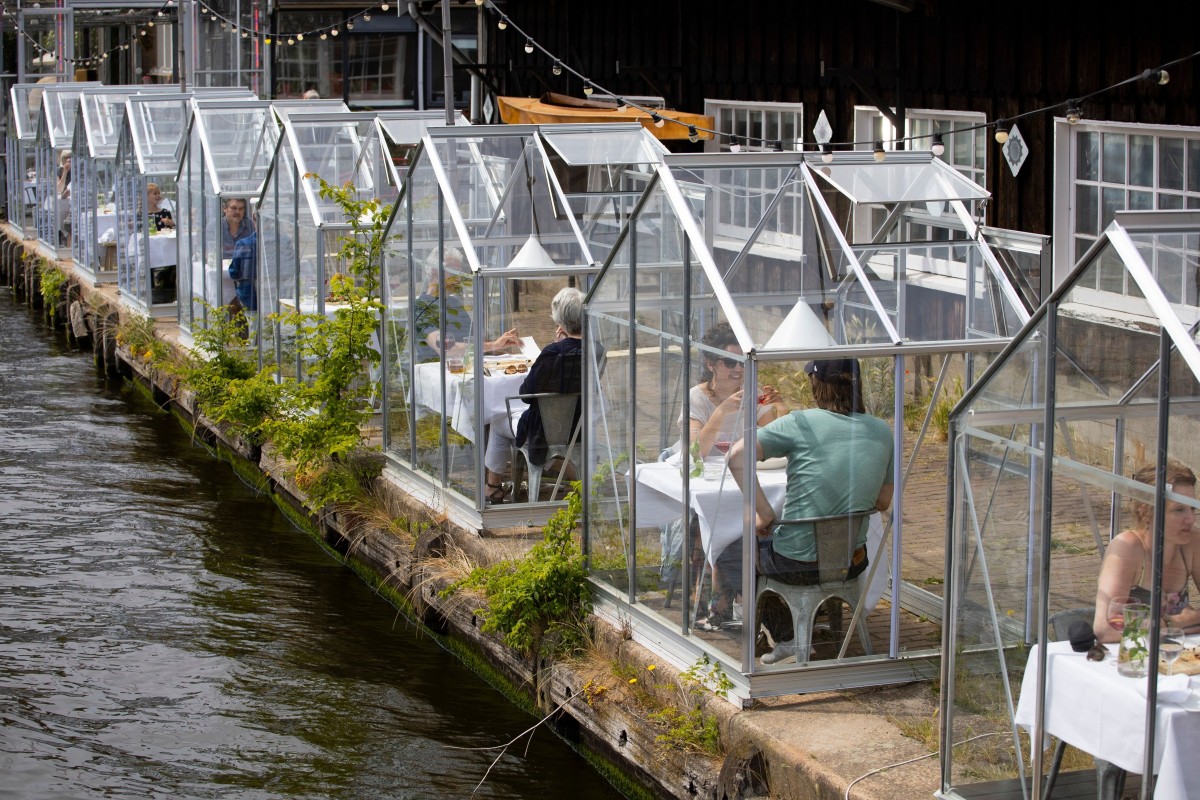 Net 35% of eurozone SMEs needed additional bank credit facilities this year
The latest ECB Survey on Access to Finance ("SAFE") queried eurozone businesses from early September through the first half of October, before major new constraints were imposed throughout Europe. However, the spring lockdown measures had already left their mark on the health of small and medium-sized enterprises, and concern about a second wave was already in the air. A net 46% of eurozone SMEs reported a drop in turnover, the worst score on record (even worse than 2009, when the SAFE was first held). The biggest impact was felt in Italy and France (over 50% of SMEs reporting a contraction in turnover), while the impact was relatively mild in the Netherlands and Belgium (net 32%). This obviously has financial consequences. In the "normal" years of 2015 to 2019, on average, a net 6.7% of eurozone SMEs reported needing a bank loan, credit line, or overdraft facility. This jumped to 35.7% in the surveyed period. Indeed, helped by government guarantee schemes, bank borrowing increased sharply almost everywhere in the eurozone in spring.
SME financing needs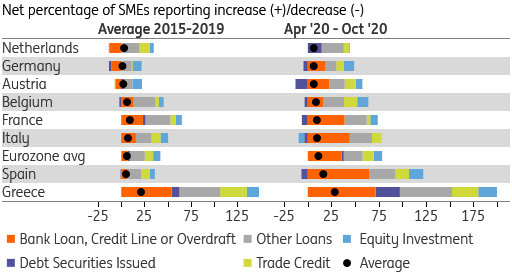 Source: ECB SAFE, ING
Behind the eurozone, numbers are some familiar north-south dividing lines. In Germany, the Netherlands, and Belgium, the reported net additional need for bank facilities was below 20%, and even just 0.3% in the Netherlands. By contrast in Spain, a net 65% of SMEs needed to draw on their bank, with Italy and France around 40%.
SMEs got the financing they needed to tide them over
Eurozone SMEs on balance reported no change in the availability of finance. This can be considered positive given the circumstances, though it can also be interpreted as a deterioration compared to the years 2015-2019 when the availability of finance continuously improved. Bank facilities remained available in the surveyed period, a sign that policy measures to support bank lending, including guarantee schemes, worked. A conclusion also borne out by bankruptcy figures, which have stayed below 2019 levels so far this year.
Disclaimer: This publication has been prepared by ING solely for information purposes irrespective of a particular user's means, financial situation or investment objectives. The information ...
more