Eurozone: Looking For The Trough
With 0.2% growth quarter-on-quarter, third-quarter eurozone GDP growth came in better than expected. However, the economy continues to decelerate and it looks as if the trough in the current slowdown might still be a few months away. With a new president at the helm at the ECB, monetary policy is unlikely to change over the forecasting period.
Source: istock
Anticipating a turnaround
European stock markets have been rallying in October in the hope that some of the outside risks are diminishing and a turnaround in activity is around the corner. That said, the euro coin indicator- a nowcasting tool for the eurozone, fell from 0.16 in September to 0.13 in October, continuing its downward trend.
The forward-looking indicators in the European Commission's business and consumer survey don't signal an imminent turnaround in the weakening trend either. Especially the manufacturing sector continues to suffer, with both the order books and the employment expectations component further declining. The falling capacity utilization doesn't bode well for business investment and it is clear that as long as there is not more certainty in terms of the trade war and Brexit, businesses will be reluctant to initiate new projects.
Stock market anticipates a turnaround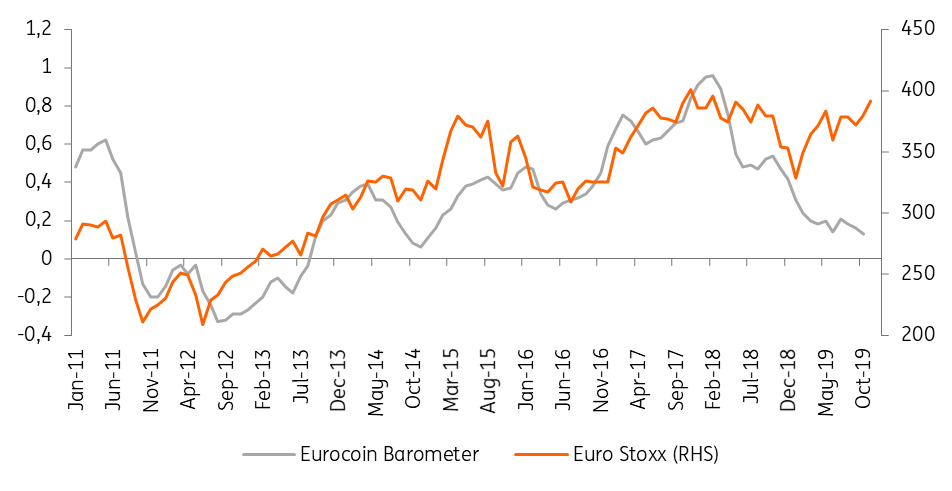 Source: Refinitiv Datastream
Contagion from weak manufacturing
The bad news is that services are also beginning to feel some impact of the slowdown in manufacturing, with the sentiment indicator now below its long-term average. But on the positive side, it must be noted that hiring intentions are still holding up. And that is important, as a strong labor market is supporting private consumption. The unemployment rate was unchanged at 7.5% in September, still the lowest level since July 2008. But consumer confidence is of course also important and here things start to look a bit shaky, too. Consumer confidence fell in October to the lowest point since December 2018 and is now also below its long term average.
The information does not constitute investment recommendation, and nor is it investment, legal or tax advice or an offer or solicitation to purchase or sell any financial instrument. more