Eurozone: Backroom Politics To The Forefront
Last year was a good year for eurozone integration. But aside from the vaccination chaos, the potential political fallout looks much less spectacular this year. However, we think behind the scenes; some important next steps will be taken about the future of the eurozone in 2021.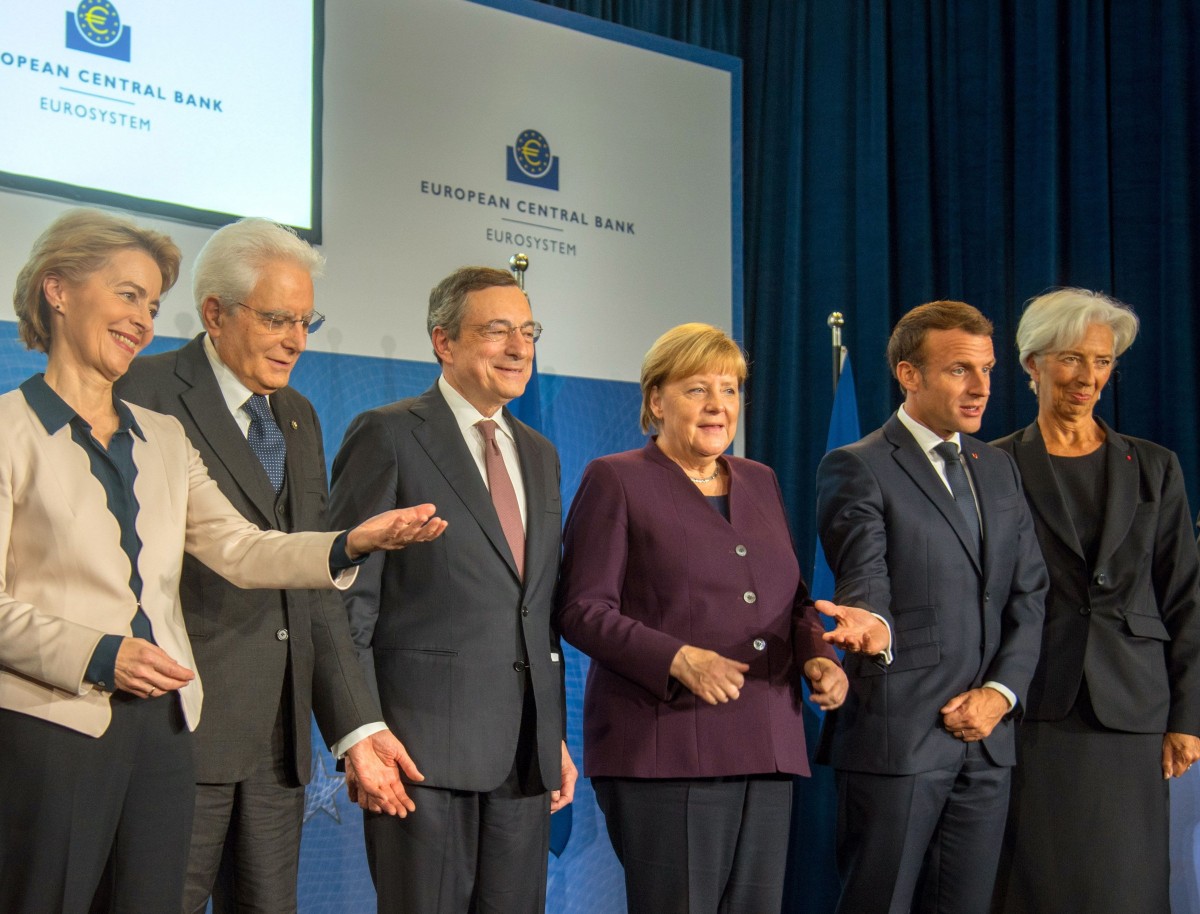 Italy's prime minister-designate Mario Draghi (3-L), ECB president Christine Lagarde (R), French president Emmanuelle Macron (2-R), German chancellor Angela Merkel (3-R), president of the EU Commission Ursula von der Leyen (L) and Italian president Sergio Mattarella (2-L)
Desperate times called for historical measures
2020 turned out to be another testing year for the eurozone. Doubts about national governments' fiscal firepower to tackle the pandemic, enhanced by comments by ECB president Christine Lagarde that it wasn't the central bank's job to keep spreads narrow and she had no intention of her own whatever-it-takes moment, brought back euro crisis memories.
It took a while, but in all fairness, national fiscal stimulus, cheap funding for countries in need, the ECB's pandemic emergency purchase programme and finally the Recovery and Resilience Fund (RRF) marked an unprecedented policy reaction, both in terms of size and swiftness.
The most relevant and novel measures included:
Creation of the recovery and resilience fund - a fund that disburses grants and loans for which the EU directly borrows from the markets. (672.5 bn euro)
National fiscal stimulus worth on average 3.8% for the EU and even 11% of GDP for Germany.
The unconditional use of the European stability mechanism loan facility for health-related purposes up to around 2% of GDP for eurozone economies.
The SURE programme, which allows governments to borrow for short-time work scheme funding (100bn euro).
The creation of the pandemic emergency purchase programme, in which the ECB allows itself to deviate temporarily from capital key, which is not a political decision and therefore beyond the scope of this note.
To remind you of what a difference a year makes, cast your minds back to October 2019 when the French president Emmanuel Macron called for a eurozone budget that was just 17 billion euro for all 19 eurozone members, spread out over seven years and not meant for stabilisation. A meagre sum that it could hardly count as a symbolic victory.
After teething problems, the European response to the crisis led to positive reactions from the market with spreads between government bond yields narrowing and a strengthening of the euro exchange rate - a clear message of European solidarity and pricing out any break-up risk. Investors have been comforted by the EU's 'leave no country behind' policy, even if most measures have been explained as exceptional cases and one-offs. Investors seem to be taking the view that every permanent crisis-fighting tool starts with a 'one-off'.
However, this year is unlikely to be as spectacular as 2020, at least not when it comes to new measures but behind (and in front) the scenes, 2021 could be an important year to set the future course of the eurozone.
Just think of discussions on debt cancellation, fiscal rules review, implementing the recovery fund and national elections.
(Click on image to enlarge)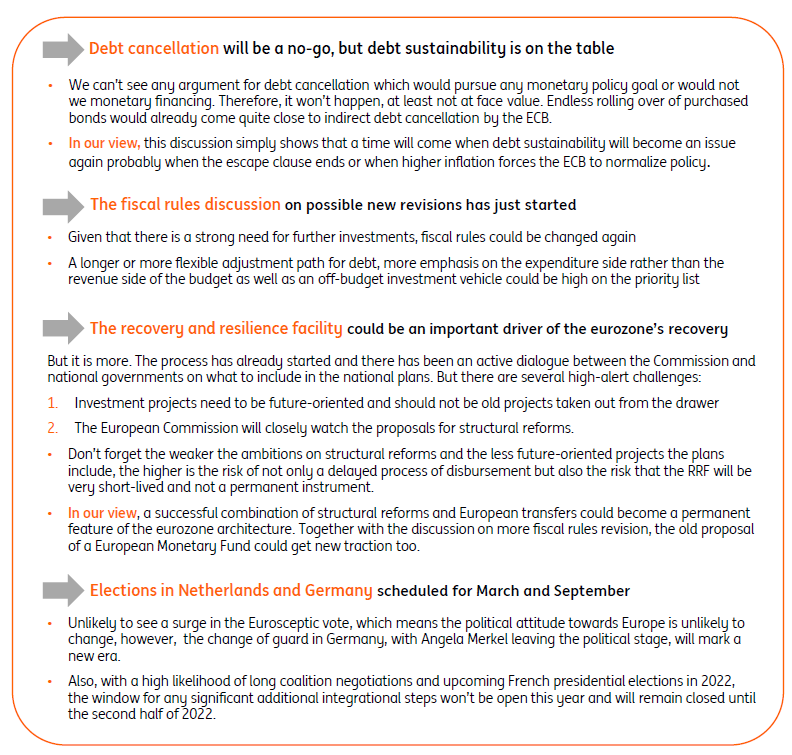 The debt cancellation debate
The pandemic has not only put a lot of strain on the health system and the economy at large, it has also increased already bloated debt levels in Europe.
Public debt in the eurozone has grown by about 15 percentage points since 2019 and is now hovering around 100% of GDP, with some countries clearly above that level. At the same time, the eurozone needs to invest to counter the structural growth decline and realise its green and digital agenda.
Disclaimer: This publication has been prepared by ING solely for information purposes irrespective of a particular user's means, financial situation or investment objectives. The information does ...
more