HH

European Economy Not On Trend With America
The US and Europe are in significantly different situations in terms of economic growth, inflation, and monetary policy. America's year over year core PCE is 1.9% as of March and its core CPI is 2.1% as of April. That's exactly where the Fed wants inflation to be as the target is 2%. This has allowed the Fed to start unwinding its balance sheet in October 2017. It will eventually reach the speed of $50 billion per month by the end of 2018. The Fed has also raised rates to 1.69% and plans to raise them 50 basis points more this year. Monetary policy is normalizing.
On the other hand, the ECB is still at negative rates as you can see from the chart below.
(Click on image to enlarge)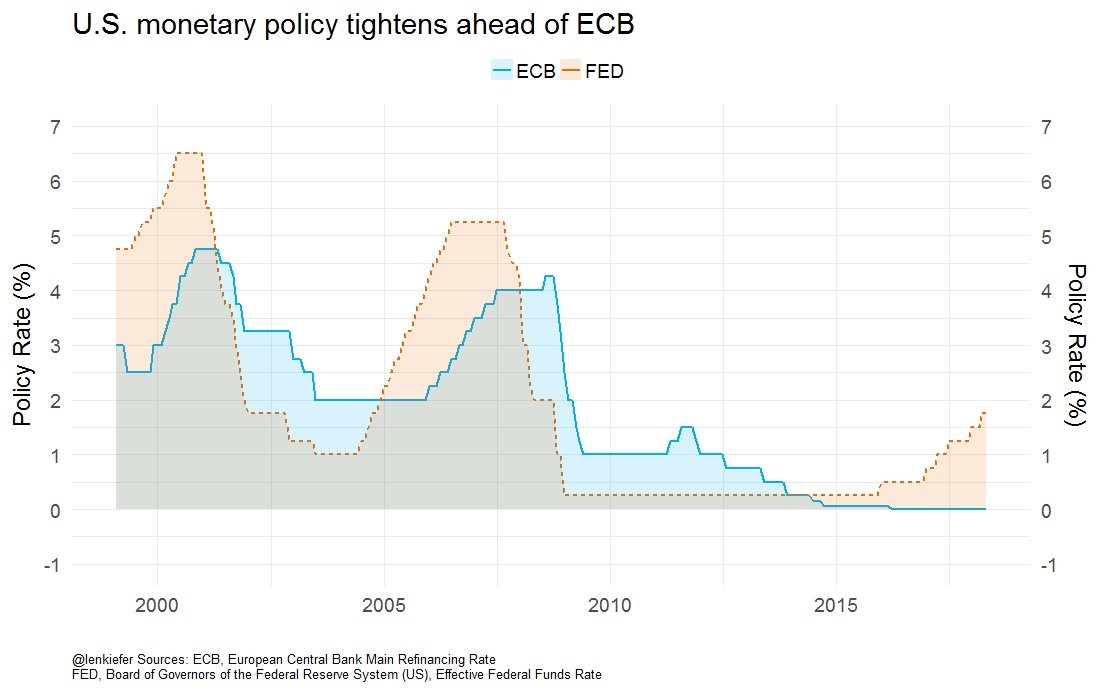 Source: Twitter @lenkiefer
The plan is to end its bond-buying program by the end of this year or early next year. The problem for the ECB is that inflation is headed in the wrong direction for them. Policymakers hoped the 1.5% inflation in November 2017 would eventually get to its 2% goal even as it moves towards being hawkish. That hasn't happened as the inflation rate is expected to be only 1.2% in April. Annual core inflation is expected to fall from 1% to 0.7% in April furthering the ECB's conundrum.
European Growth Weakening
The European Citi Surprise index has fallen to -100.1 which is the lowest level since at least 2012. This means the economy is doing poorly in rate of change terms and that economists are too optimistic. The bright side is economists will change their tune eventually making for lowered expectations, but the negative side is the economy won't necessarily improve. As you can see in the chart below, the foreign manufacturing new orders growth in Germany is decelerating which is often a signal of further weakness in global industrial production.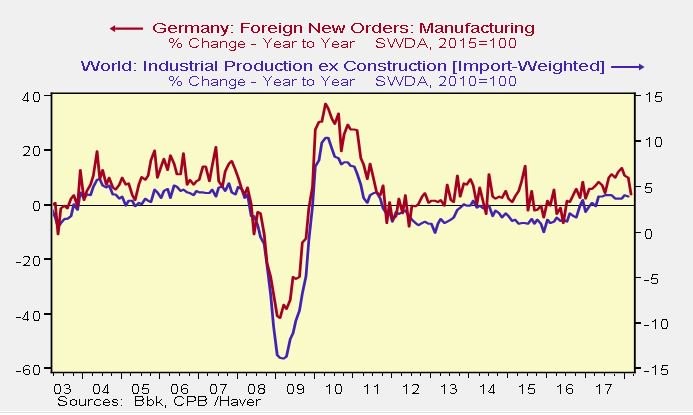 Source: Twitter @teasri
The prior two times since the financial crisis that German orders growth was negative, the global economy slumped. There isn't much that occurs in a vacuum, let alone from the biggest economy in Europe.
Disclaimer: Please familiarize yourself with our full disclaimer here.