Euro Forecast: Quieter Economic Calendar Pushes Euro To Background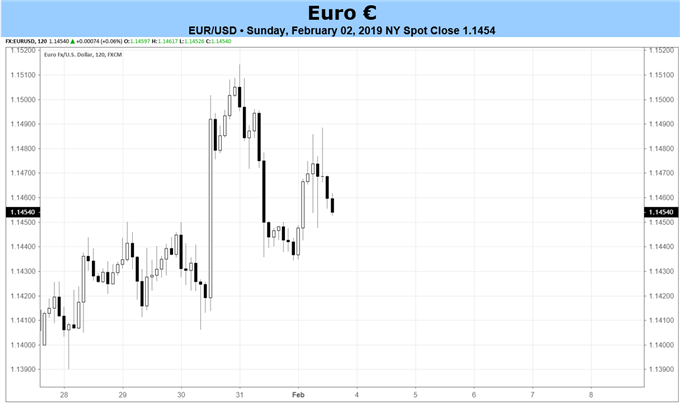 FUNDAMENTAL FORECAST FOR THE EURO: NEUTRAL
- The Euro finished right in the middle of the pack, gaining ground against four currencies while losing ground against three; EUR/AUD was the worst performer and EUR/GBP was the best.
- Both Q4'18 Eurozone GDP and January Eurozone CPI confirmed that economic activity is slowing for the region, underscoring the European Central Bank's change in tone at their most recent meeting.s
- The IG Client Sentiment Index shows that traders have increased their long EUR/USD positioning during the latest turn lower.
The Euro had a middling week, gaining ground against four currencies, posting its best performance against the Brexit-burdened British Pound (EUR/GBP +1.32%). Meanwhile, losing ground against three currencies, the Euro's worst performance came against the Australian Dollar (EUR/AUD -0.55%). The commodity currencies were the top three performing currencies on the week overall, mirroring the rebound in global equity markets.
NO SIGNIFICANT IMPROVEMENT FOR ECONOMIC DATA MOMENTUM
The past week's key economic data releases confirmed the dour tone deployed by the European Central Bank at its January policy meeting. Q4'18 Eurozone GDP showed that the region only grew by +1.2% in 2019, down from the +1.6% rate seen in Q3'18. Similarly, the January Eurozone Consumer Price Index showed topline inflation falling from +1.6% to +1.2% (y/y), more evidence that economic activity faced headwinds through the turn into the New Year.
In the week ahead, there aren't any economic data releases that come close in comparison to either a GDP or CPI report. In fact, there are no 'high' rated data releases due out at all, relieving the Euro of its own destiny as other factors will dominate trading conditions. But the backdrop for the Euro isn't necessarily a good one. After last week's economic figures, the Citi Economic Surprise Index remained deep in the red at -77.3, improved from -88 at the end of last week, but still lower than where it was one month ago at -75.1.
See our long-term forecasts for the Euro and other major currencies with the