Euro Forecast: Fundamentals Continue To Erode - December CPI On Thursday

by Christopher Vecchio, CFA , Sr. Currency Strategist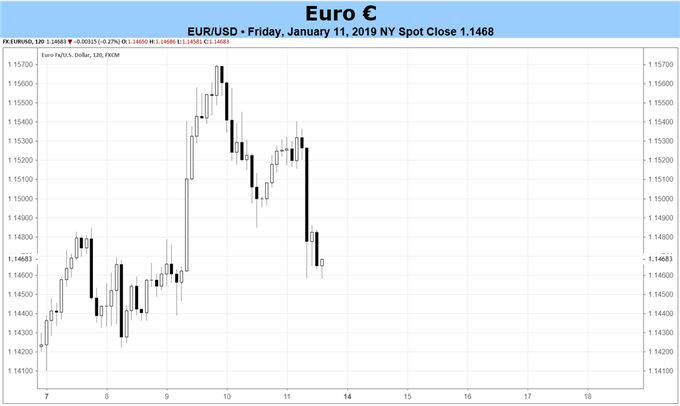 FUNDAMENTAL FORECAST FOR THE EURO: NEUTRAL
The first full week of 2019 was rather quiet for the Euro; no cross finished the week more than +/- 0.83% from where it started.
Upcoming inflation figures suggest that the ECB may have to use its January policy meeting to underscore its commitment to its ultra-loose monetary policy stance.
The IG Client Sentiment Index shows that traders have trimmed their net-long EUR/USD positions in a minor fashion over the past week.
The Euro had a middling first full week of 2019, gaining against three currencies while losing ground against four others. The biggest loser, EUR/NZD, was only down by -0.83%, while the top performing cross, EUR/USD, added a mere +0.65%. Absent meaningful data on the economic calendar, the Euro was largely left to the machinations of the other major currencies and developments along their own fault lines: the US government shutdown; the US-China trade war; Brexit; and rising geopolitical tensions in the Syria theater.
INFLATION REMAINS CONSTRAINED AFTER ENERGY PRICE DECLINE
The coming week, however, should provide information that will have a direct influence over the EUR-complex. Thursday's December Eurozone CPI report is the final significant data release before the January European Central Bank Policy meeting (January 24), and the data may provide cover for the ECB to shift its forward guidance (and therefore, rate hike timing) in a more dovish direction.
Even though energy prices have stabilized over the past month – Brent Oil closed this week at $60.59/brl, up from $60.28/brl on December 14, 2018 – inflation expectations continue to trend lower. The 5-year, 5-year inflation swap forward, ECB President Mario Draghi's preferred market gauge of inflation, has fallen by -6.3-bps over the same time period, from 1.618% to 1.554% on January 11.