Euro Forecast: EUR/USD Week Ahead Outlook Poor, EUR/GBP Tumbling
FUNDAMENTAL EURO FORECAST: BEARISH
Rising US Treasury bond yields on hopes of a strong rebound in the US economy after the slump caused by the Covid-19 pandemic, along with fears of rising inflation, will likely support the US Dollar in coming days and weaken EUR/USD accordingly.
Meanwhile, the success of the UK vaccination program compared with the slow rollout of vaccines in the EU, as well as rising UK Gilt yields, could well lead to further losses in EUR/GBP even after the steep falls of recent weeks.
EURO PRICE WEAKNESS TO PERSIST
The continuing prospect of a substantial pandemic relief package in the US, along with the relative success of the country's vaccination program, have combined to raise hopes that the US will lead the global economy out of the slump caused by the spread of Covid-19 but also to increase fears of a jump in inflation. Those fears have raised the yields on US Treasury bonds and notes, strengthening the US Dollar against most other currencies and, with few signs yet that the climb in USD is coming to an end, the consequent weakness in EUR/USD so far this year looks set to persist in the week ahead.
EUR/USD PRICE CHART, DAILY TIMEFRAME (OCTOBER 6, 2020 – FEBRUARY 18, 2021)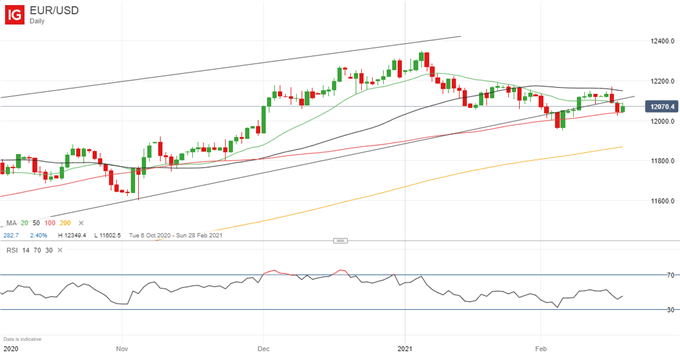 Source: IG (You can click on it for a larger image)
Meanwhile, there is also no sign yet that EUR/GBP will pull out of this year's dive. Like the US, the UK economy is expected to rebound strongly thanks to a successful vaccination program and loose fiscal policy. Also like the US, UK Gilt yields are rising and inflation is expected to climb. As a result, EUR/GBP's steep losses will likely continue.
EUR/GBP PRICE CHART, DAILY TIMEFRAME (OCTOBER 26, 2020 – FEBRUARY 18, 2021)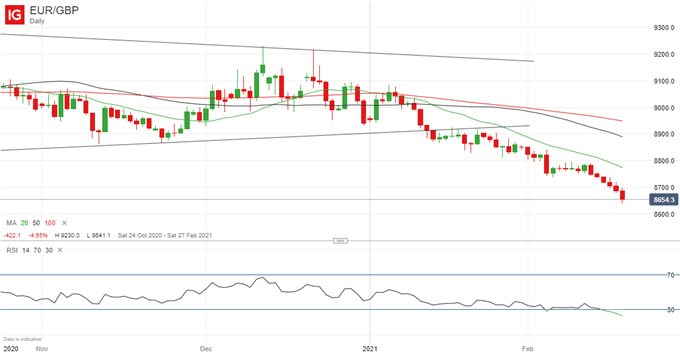 Source: IG (You can click on it for a larger image)
EUR/GBP MIXED Data provided by IG
Disclosure: See the full disclosure for DailyFX here.