Euro Forecast: EUR/USD To Find Direction From ECB And EU Summit
(Click on image to enlarge)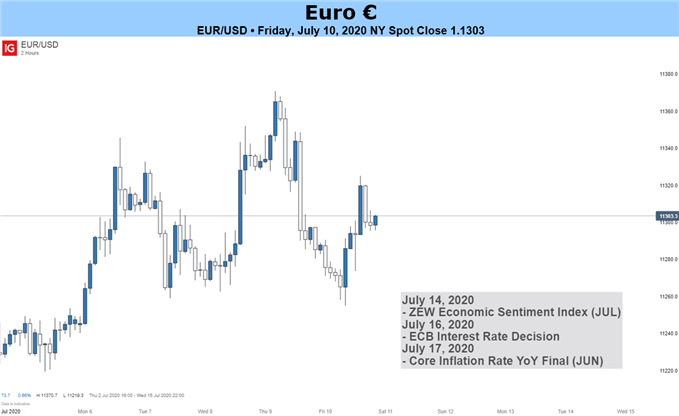 Source: IG Charts
ECB ON THE AGENDA
The end of the coming week will be busy for Euro traders, who will need to keep their eyes open for an announcement Thursday on monetary policy by the European Central Bank's Governing Council and then for any news from a special meeting of the European Council on Friday and Saturday.
Prior to that, the Euro will likely be buffeted by risk on/risk off sentiment and movements in the US Dollar. The ECB meeting needs to be watched closely but it too should leave the Euro unmoved as no changes are expected in Eurozone monetary policy.
It was only last month that the ECB decided to respond to the economic downturn caused by the spread of coronavirus infections by increasing its pandemic emergency purchase program (PEPP) by €600 billion to €1.35 trillion, extending the horizon for net purchases under the PEPP to at least the end of June next year and reinvesting the maturing principal payments from securities bought under the PEPP until at least the end of 2022.
There's little doubt that it will now sit back for a while before deciding whether any further action is necessary. Indeed, ECB President Christine Lagarde told The Financial Times newspaper last Wednesday: "We have done so much that we have quite a bit of time to assess" economic data "carefully".
That leaves the EU summit as the principal risk event for the Euro and it will be interesting to see whether Lagarde attempts to nudge the leaders attending into reaching a deal.
EUR/USD PRICE CHART, DAILY TIMEFRAME (APRIL 9 – JULY 9, 2020)
(Click on image to enlarge)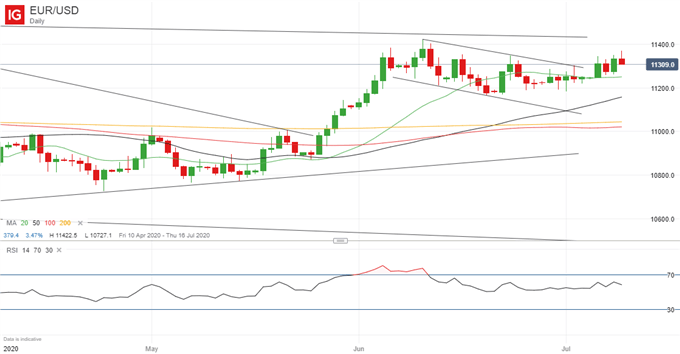 Chart by IG
EU SUMMIT RISK FOR THE EURO
The special European Council meeting will take place Thursday and Friday at the Europa building in Brussels so that EU leaders can discuss face-to-face a proposed recovery plan to respond to the Covid-19 crisis and agree a new long-term EU budget. Charles Michel, the President of the European Council, has said "we are aware that it is essential to take a decision as soon as possible," but there is plenty of room for a slip-up.