Euro Forecast: Dour Mood Expected At ECB Meeting; PMIs On Wednesday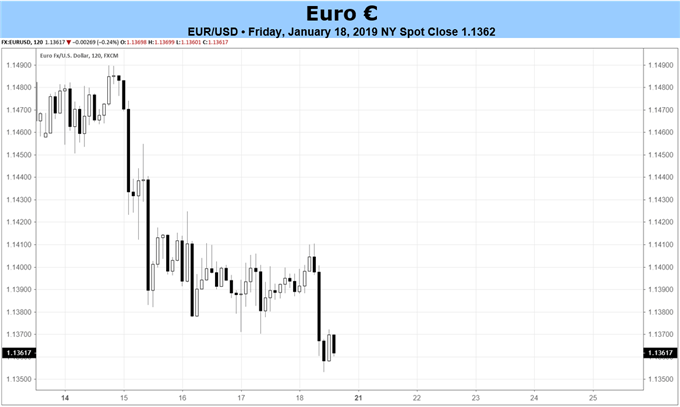 FUNDAMENTAL FORECAST FOR THE EURO: BEARISH
The Euro struggled in the second half of the week, with EUR/USD and EUR/GBP proving sensitive to US-China trade war and Brexit headlines, respectively.
A deterioration in inflation expectations over the past several months will keep the ECB's ultra-loose monetary policy intact for the foreseeable future; it's possible that President Mario Draghi pushes back the timeline for a "summer 2019" rate hike.
The IG Client Sentiment Index shows that traders have increased their long EUR/USD positioning during the latest turn lower.
The Euro may have only lost ground against four of the major currencies last week, but amid a surge in risk appetite, its gains against the Japanese Yen and the Swiss Franc are hardly impressive. Instead, amid elevated political concerns from France's "gilet jaunes" to Italy's "anti-EU axis" to Greece's prime minister surviving his no-confidence vote by a single vote, investors have been feeling a bit more on edge. Yet the most important factors of the past week did not come from continental Europe; instead, the US-China trade war headlines helped sink EUR/USD by -0.93% while Brexit developments weighed on EUR/GBP by -1.15%.
EXTERNAL FACTORS WILL STILL PLAY A ROLE
Although the coming week features the January European Central Bank meeting (more on that shortly), EUR/GBP will still be guided by Brexit as key deadlines approach and EUR/USD by the US-China trade war. Only EUR/USD is likely to see the headlines continue along their current track: both China and the US appear to have the desire and willingness to get a deal done.
Brexit is an issue unto itself, unlike any other. As UK Prime Minister Theresa May seemingly closed off options at the end of the week – including canceling Brexit, a second referendum, and a general election – EUR/GBP reversed some of its earlier losses in a significant manner. If the headlines continue to develop in a manner suggesting that a no-deal, 'hard Brexit' outcome is rising in likelihood, EUR/GBP could easily decouple from the rest of the EUR-complex and trade to the topside – regardless of what the ECB does on Thursday.
Disclosure: See our long-term forecasts for the Euro and other major currencies with the
more