Euro Forecast: December ECB Decision To Produce Volatility, Maybe Not Direction
(Click on image to enlarge)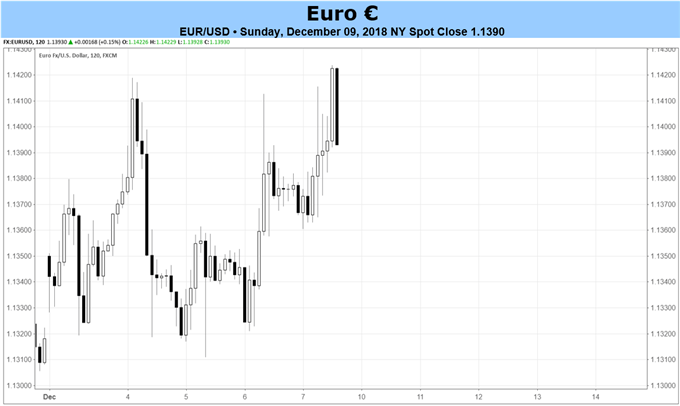 Fundamental Forecast for EUR/USD: Neutral
After losing ground across the board since early-October, the Euro broadly stabilized for a second consecutive week, gaining ground against five of the other seven major currencies as hopes for a resolution to the Italian budget deficit saga have bloomed. EUR/AUD led the way higher, up by +1.88%, followed by EUR/CAD and EUR/GBP, up by +0.77% and +0.72%. Meanwhile, with concerns over the US-China trade war proliferating, risk-correlated assets were hit in the second half of the week, and the only two underwater EUR-crosses were the safe haven pairings: EUR/CHF lost -0.05% while EUR/JPY slipped by -0.23%.
The ongoing drama that are the Italian budget deficit negotiations seems to be heading towards a resolution, even if one won't materialize in the days ahead. Willingness to compromise by officials in both Brussels and Rome is key to a de-escalation of tensions, and both sides appear willing to make concessions towards an agreement: Italian politicians are willing to accept a smaller budget deficit-to-GDP ratio than 2.4%, and European Commission policymakers may be willing to grant Italy a six-month waiver to get its budget in order to avoid the fine associated with the excessive debt procedure (roughly €9 billion).
Attention to the Euro will intensify over the coming days, as the European Central Bank is ready to enter the fray with its December rate decision on Thursday. With QE set to end, it's possible that the ECB makes permanent its TLTROs to ensure that there is no calcifying of credit conditions in southern Europe; while German and French banks have excess reserves, banks in Italy and Spain, for example, still borrow from the ECB.
The backdrop for the ECB to reaffirm its extraordinary easing policy is emboldened by the dramatic decline in inflation expectations in recent weeks, no doubt tied to the plunge in energy prices. ECB President Draghi's preferred gauge of inflation, the 5-year, 5-year inflation swap forwards, fell to 1.624% at the end of last week, down from 1.706% one month ago; the yearly high was set on January 22 at 1.774%.