Euro Forecast: Breakout Or Breakdown? Key Levels For EUR/JPY & EUR/USD
Euro Treading Water Through January
The Euro has had a modestly positive start to January. Attention remains away from the Eurozone thanks to shifts in key macro themes, namely the US-China trade war Phase 1 deal, US-Iranian geopolitical tensions, the Brexit deadline, and now the Chinese coronavirus. The Euro has gained ground against four currencies while losing ground against three thus far. EUR/USD is the worst performing pair, down by -1.08%, while EUR/AUD and EUR/NZD are leading the way higher, up by 1.35% and 0.97%, respectively.
Eurozone Economic Data Continues to Improve
Exogenous influences aside, Euro strength at the start of 2020 has come in hand with an ongoing improvement in domestic Eurozone economic conditions. Eurozone economic data has improved in the past few weeks, at least when trying to measure releases relative to expectations. The Citi Economic Surprise Index for the Eurozone, a gauge of economic data momentum, currently sits at 45.1 today relative to 25.5 one-month ago on December 24 and -55.9 on October 17.
Eurozone Inflation Expectations Nudging Higher
The Eurozone is faced with a situation where low growth and inflation expectations are keeping the ECB's bias pointed towards easing. Yet new ECB President Christine Lagarde has pledged that the January meeting will commence the ECB's formal policy review, which will provide a new course of policymakers have unanimity was broken by outgoing President Mario Draghi.
Eurozone Inflation Expectations versus Brent Oil Prices: Daily Timeframe (January 2019 to January 2020) (Chart 1)
(Click on image to enlarge)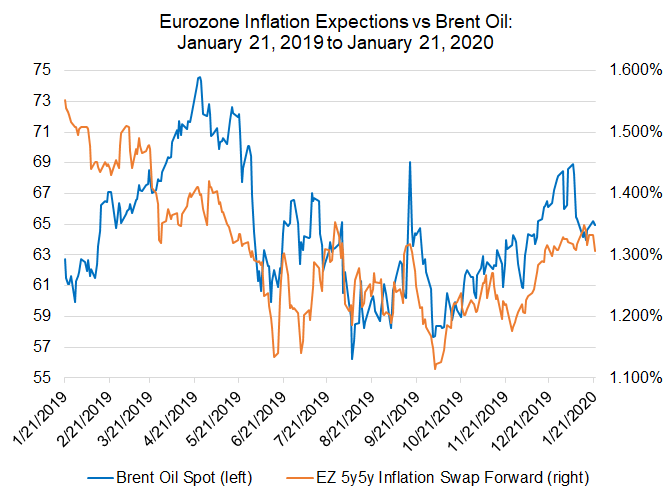 The relationship between Eurozone 5y5y inflation swap forwards and Brent oil prices has been realigning since the start of Q4'19. The current 50-day correlation between Eurozone inflation expectations and Brent oil prices has increased from 0.46 on October 1 to 0.67 today. Weakness in short-term correlations (5-day, 20-day) have been exacerbated by the sharp pullback in energy prices amid de-escalating US-Iranian geopolitical tensions.