Euro Forecast: After G20 Summit, Attention Returns To Italy's Budget

by Christopher Vecchio, CFA , Sr. Currency Strategist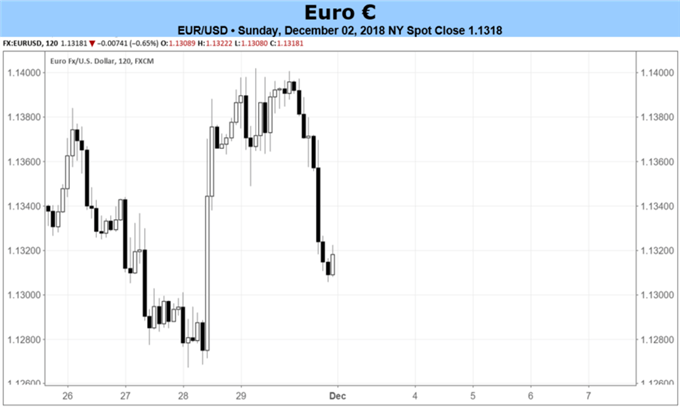 Fundamental Forecast for EUR/USD: Neutral
Both Italian politicians and European policymakers in Brussels remain entrenched in their respective negotiating positions, and now the European Commission is ready to punish Italy.
EUR/USD downside may be somewhat limited, particularly after the US Dollar's fundamental backdrop eroded last week thanks to the Federal Reserve.
The IG Client Sentiment Index continues to suggest more downside ahead for the Euro.
A broad rebound in risk appetite propelled higher yielding currencies and risk-correlated assets higher at the end of November, leaving the Euro decidedly mixed by the end of last week. EUR/NZD and EUR/AUD led the way lower, dropping by -1.52% and -1.19%, respectively, while EUR/JPY was the top performing EUR-cross, adding +0.36%. Meanwhile, with concerns about Brexit persisting, EUR/GBP was able to edge higher by +0.33%.
Data released on Friday was particularly concerning for the Euro, as the most important data release of the week also proved to be the most disappointing. The preliminary November Eurozone CPI came in at +2.0% from +2.2% (y/y), while the core CPI reading registered +1.0% versus +1.1% expected (y/y). These data have mirrored the decline in inflation expectations in recent weeks, with the 5-year, 5-year inflation swap forwards dropping from 1.679% to 1.625% over the past four-weeks.
Put into context of the recent drop in energy prices (Brent Oil is down by -19.4% over the past month) and the relative elevation of the trade-weighted Euro (+1.42% y/y thanks largely due to EUR/GBP) it would seem that a soft patch of inflation is due ahead. These facts may very well give the European Central Bank another reason to push back its timeline for its first rate hike, even if it does follow through with ending its QE program later this month. After all, in recent meetings policymakers have openly riffed on another TLTRO (in lieu of continuing the QE program).