EUR/CAD: Catching The Move Lower
Since April 21, the EUR/CAD pair has been trending to the downside. To determine if a market is trending, the price action must be forming higher highs/higher lows in an uptrend and lower lows/lower highs in a downtrend. We always recommend our clients to trade with the trend and not against it.
On May 11, I posted on social media: "EUR/CAD if price stays below 1.4751, I will be watching for selling opportunities on a break below 1.4696."
The chart below was also posted on social media, which shows several clear bearish market patterns. Besides that, the pair was in a downtrend. Another sign that signaled for traders to watch for selling opportunities was seen when the indicator and price formed a bearish divergence market pattern (pink).
This divergence market pattern signals a "trend continuation," which was trending to the downside at the time. Another visible indication that signaled traders was when the price respected and moved lower off the Dynamic Moving Average Resistance (blue).
Respecting the Dynamic Moving Average combined with the Bearish Divergence Pattern formation allowed traders to clearly distinguish that the right side to trade was to the downside. Seeing these bearish signals was all I needed to be confident on posting the short/sell trade setup for a move lower.
EUR/CAD 30-Minute Chart: May 11, 2021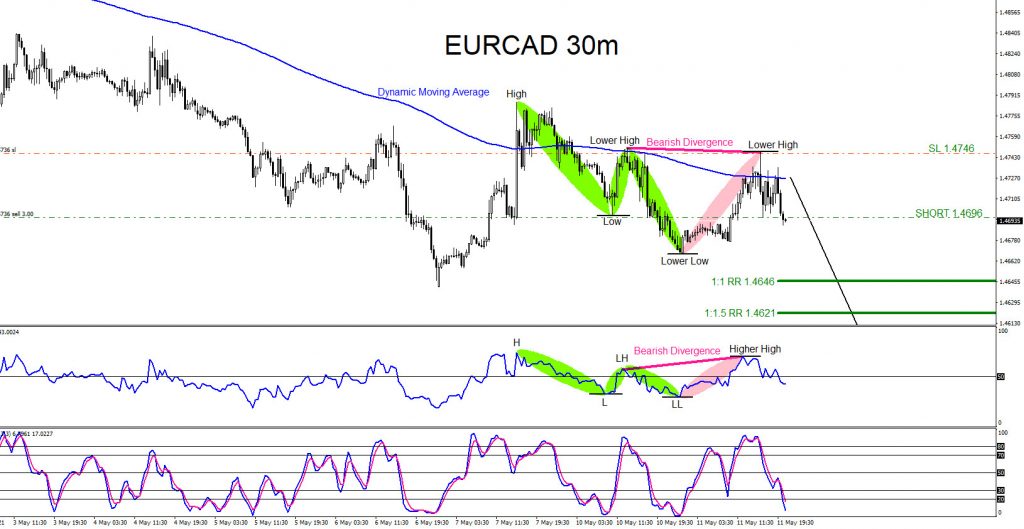 EUR/CAD eventually moved lower, and on May 12, the price hit the 1:2 RR target at 1.4596 from the 1.4696 sell entry for +100 pips.
EUR/CAD 30-Minute Chart: May 12, 2021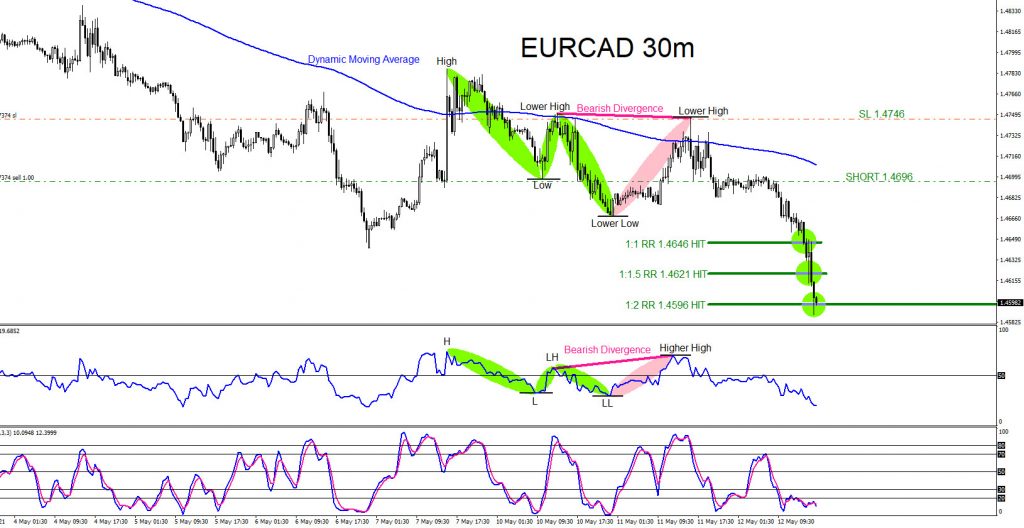 Like any strategy, there will be times when the approach fails, so proper money/risk management should always be used on every trade.
Disclaimer: Futures, options, and over the counter foreign exchange products may involve substantial risk and may not be suitable for all investors. Leverage can work against you as well as for ...
more