EUR And ECB Crib Sheet
Expectations Are Running High
With President Lagarde building high expectations in the October meeting and largely pre-committing to the ECB easing in the December meeting, it will be a very difficult task for the central bank to weaken the euro. If anything, there is a risk that the press conference bias pushes EUR higher, particularly if the forward guidance beyond the December easing package is not overly strong.
In fact, we look back to the ECB meeting in September 2019 for guidance. At that time, the ECB did not exceed the high expectations built up prior to the meeting, and failed to push EUR/USD lower back then, despite it cutting the depo rate and restarting QE. In the absence of a rate cut or meaningfully larger asset purchases, the impact of the upcoming ECB easing on EUR is likely to be limited.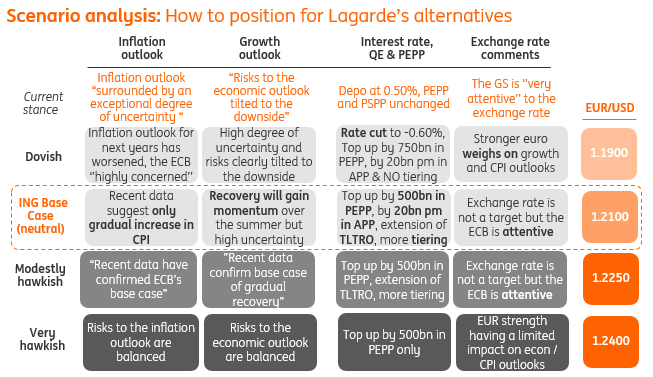 Source: ING
It Will Be Difficult To Over-Deliver
In our view, the mix of an increase in the Pandemic Emergency Purchase Program by up to EUR500 billion, an increase of the monthly Asset Purchase Program purchases from EUR20 billion to EUR40 billion (open-ended), an extension of Targeted Longer Term Refinancing Operations, and potentially including Fallen Angels into the corporate bond purchasing program (see the ECB Preview for more details) won't be enough to push EUR/USD persistently lower and outweigh the very strong bearish USD dynamics (which is the key driving factor behind our bullish EUR/USD forecast).
As per our 2021 FX Outlook: Back on track, we target EUR/USD 1.25 in 2021, with a strong upside risk to 1.30.
ECB Attentive To The Euro, But No Aggressive Verbal Intervention Expected
As for the exchange rate, with the trade weighted EUR not exceeding its summer highs (which led to verbal interventions from some ECB officials at the time) and just modestly trading above its four-month average (ie, 0.5% higher), it looks to be too soon for the ECB to embark on more aggressive verbal intervention.
Disclaimer: This publication has been prepared by ING solely for information purposes irrespective of a particular user's means, financial situation or investment objectives. The information ...
more