Economies In Asia Are Turning
Taiwan was most resilient, with its GDP growing faster in 2020 than it did in 2019. China saw a significant fall from 6.4% growth in 2019 but remained positive at 2%.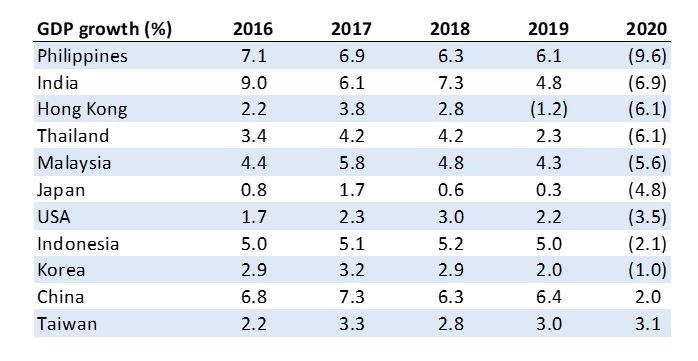 Structure of economies
Balanced Korea – The GDP of Korea has been the most balanced of the countries in Asia. Over the past four years, the economy was driven 64% by consumption, 31% by investment, and 5% driven by net exports.
Importing and consuming the Philippines – The Philippines, Hong Kong, and Japan are the countries in Asia most driven by consumption. However, consumption is highest in the Philippines due to it being the biggest importer in Asia.
Investing China – China is by far the country with the most investment-driven economy thanks to focused government policy and expanding private business. Meanwhile, the islands of Hong Kong and Taiwan have had the lowest level of investment-driven GDP. Both are relatively developed and small.
Investment lacking Philippines – Over the past four years, the Philippines' economy has struggled with low investment and low net imports, which causes GDP to be mainly reliant on domestic consumption.
Exporting Singapore – Singapore has the most export-driven economy in Asia, making it one of the richest. It is followed by the second-highest net exporter in Asia, Taiwan. The Philippines and India are the two net importers in Asia. China, India, Japan, and Korea are some of the world's largest oil importers.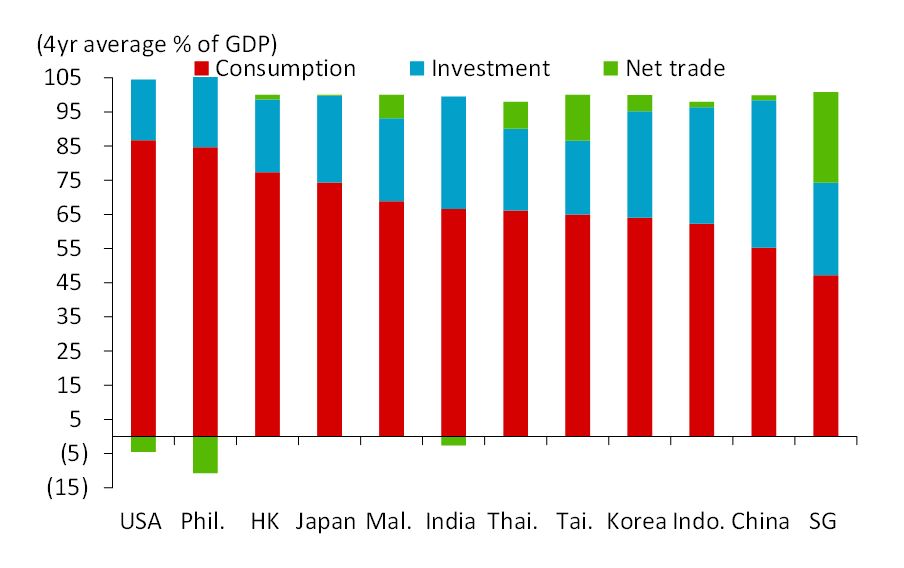 Consumption as a % of GDP collapsed in Taiwan, surged in the Philippines
Taiwan faced the most significant fall in domestic consumption relative to the prior four years (2016-2019) because of COVID-19. Singapore, Korea, and Indonesia followed this. Thailand, Malaysia, and the Philippines saw the most significant increase in consumption.
The most profound fall in investment came in the Philippines, followed by Malaysia and Singapore. Thailand saw the most significant jump in investment, followed by Taiwan. The Philippines has struggled through COVID-19 times, with some of the highest numbers of deaths and severe lockdowns.
Disclaimer: This content is for information purposes only. It is not intended to be investment advice. Readers should not consider statements made by the author(s) as formal recommendations and ...
more