ECB Preview: Five Reasons For Lagarde To Lift The Euro
"Delayed, not derailed" – that has been the message coming from Christine Lagarde, President of the European Central Bank, and she will likely repeat it. However, while the Frankfurt-based institution announced it would bring forward some of its support in its March meeting, the view could be significantly different this time. That could lift the euro.
Here are five reasons for a rosier message:
1) Vaccination finally picking up
Many Europeans remain frustrated with the old continent's lag behind the US and the UK on the immunization front, but the pace of inoculations has substantially picked up. Roughly one in every five residents has received a jab and vaccine deliveries are set to accelerate in the coming months.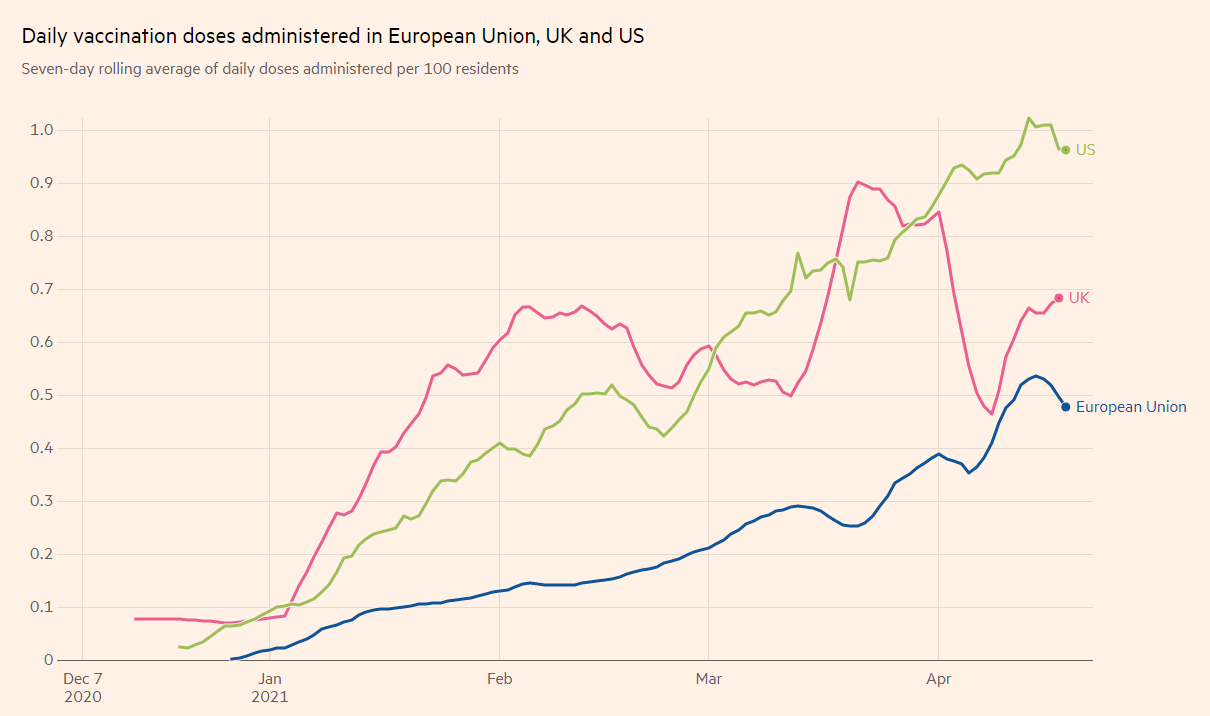 Source: FT
The EU recently announced a boost of 50 million doses of the Pfizer/BioNTech doses are coming this quarter, and regulators may give the green light to Johnson & Johnson's jabs by the time the ECB convenes. Accelerated prospects of exiting the crisis could be reflected in the bank's comments.
2) Survey optimism
While some economies are still under a lockdown and COVID-19 infections are high, businesses are optimistic. The German ZEW Economic Sentiment, the Sentix Investor Confidence, and Markit's Purchasing Managers' Indexes have been rising and surprising to the upside in recent months.

Source: FXStreet
To make forward-looking assessments, the ECB looks at these gauges of future activity and it may also shape their upbeat outlook.
3) Uncle Sam wants (also) European goods
"When the US sneezes, the world catches a cold" – goes the adage about economic crises, and the same goes for booms. US Retail Sales leaped in March by 9.8%, a result of US vaccinations and massive fiscal and monetary stimulus. Americans not only consume local goods but also purchase products and source materials abroad.
The US recovery is set to lift the global European economies, and is also a factor in Lagarde's considerations – and that is before President Joe Biden passes his vast infrastructure bill.
Disclaimer: Foreign exchange (Forex) trading carries a high level of risk and may not be suitable for all investors. The risk grows as the leverage is higher. Investment objectives, risk ...
more