Dow Jones, S&P 500, DAX 30, FTSE 100 Outlook: Stocks Week Ahead - Saturday, July 11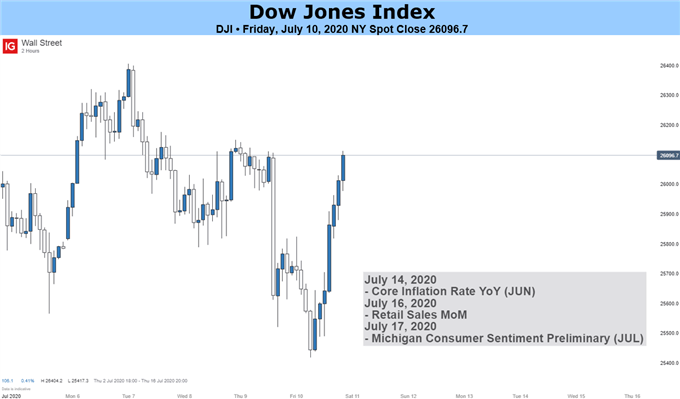 Source: IG Charts
EQUITIES FUNDAMENTAL OUTLOOK – DOW JONES, S&P 500, DAX 30, FTSE 100
DAX 30 eyeing EU rescue package & US earnings season.
Will upbeat GDP data offer FTSE 100 a near term boost?
DOW JONES, S&P 500 OUTLOOK - BEARISH
The Dow Jones and S&P 500 head into the second-quarter earnings season with the Federal Reserve slowing balance sheet growth, implying diminishing policy support. On the chart below, the central bank has seen its asset holdings shrink for four consecutive weeks. A downshift in Fed efforts to keep credit markets lubricated from the vigorous stimulative push earlier this year amid the coronavirus outbreak could be keeping stock markets from setting new highs.
The Nasdaq Composite has been the exception, as investors likely anticipate the tech sector to fare relatively better during the pandemic. That means its comparatively elevated valuation will be heavily scrutinized during this earnings season, which gets underway with major financial companies. These include JPMorgan, Bank of America, and Wells Fargo. The latter announced it was preparing for thousands of job cuts this past week.
US coronavirus cases have been surging as of late, but this has not materially impacted the outlook for GDP growth at this point. Towards the end of last week, certain states began reporting record daily death rates. Fatalities have, on the whole, not been following the trend in rising confirmed cases. But should this change, reimposing lockdowns to stem additional outbreaks risks damaging economic growth, and thus equities.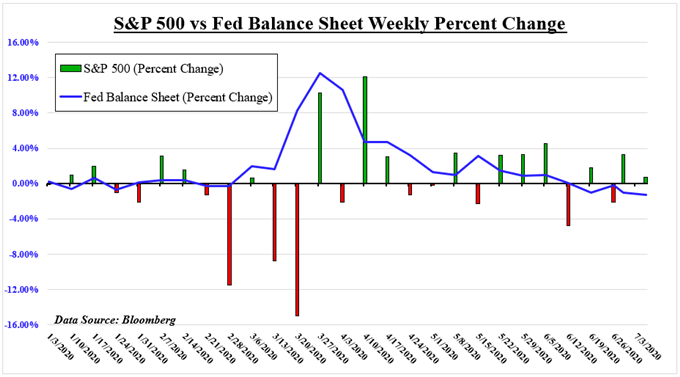 DAX 30 OUTLOOK - BEARISH
Across the Atlantic, the German benchmark stock index – the DAX 30 - is also arguably tied to fundamental developments from the world's largest economy. A sudden surge in risk aversion there could spill over locally. Focusing on more regional developments, the European Central Bank monetary policy announcement is due on Thursday, July 16. Traders will be closely watching for any adjustments in its emergency bond-buying program.