Dow Awaits Fed, FTSE Looks To EU No-Deal Data, CAC To Protests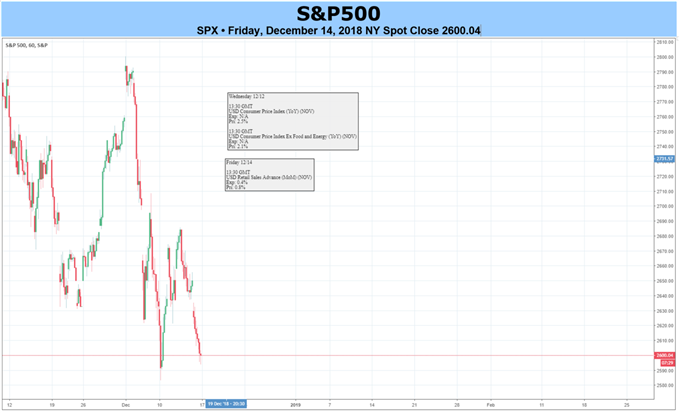 Equity Fundamental Forecast: Bearish
Fed to issue rate decision on Wednesday, followed by a press conference with potential to spur the Dow
FTSE will look to Brexit and the BOE decision with a watchful eye on events across the channel
CAC concerned with protests and reaction from Brussels on budgetary infractions
GLOBAL GEOPOLITICAL CONCERNS WEIGH
This past week saw a mixed bag of trading days. A trade war breakthrough on Tuesday spurred markets but most gains were forfeited before the close. The latter half of the week erased any earlier gains as the major US indices sold off Friday. The outlook for global equities remains bearish on a lack of upside potential and persistent threats from Brexit, the Italian budget debate and similar concerns arising in France. One area with upside potential is the Fed's decision on Wednesday.
DOW, S&P 500 AWAIT FED DECISION
The Fed is scheduled for their final rate decision Wednesday. At present CME Fed Funds futures have the probability of a hike at 77.5%. With a hike largely priced in, the real price action will arise from Chairman Powell's discussion with the press afterwards. The Q&A will allow Mr. Powell to expand upon his view for rate hikes in 2019 and given a series of dovish comments in recent weeks, could make the case for a bullish reaction in US equities.
CME FEDWATCH TOOL (CHART 1)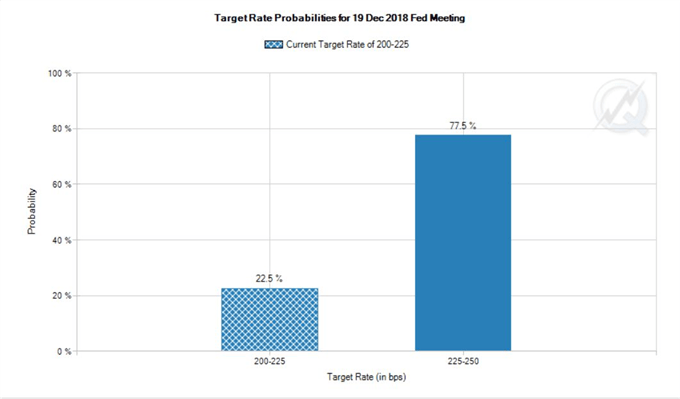 FTSE 100 LOOKS TO EU'S NO-DEAL DOCUMENTS, BANK OF ENGLAND RATE DECISION
The FTSE 100 will again await Brexit news. On Wednesday the European Union is scheduled to release documents regarding their preparation for a no-deal Brexit. If their findings are particularly bleak, expect a slump in the FTSE along with the other European indices.
Brexit Impact on GBP: How the Pound Might Move After Parliamentary Vote
The FTSE will also look to the Bank of England. With virtually no chance the bank hikes their interest rate, any reaction will come from commentary on the case for future hikes. Expect this event to be overshadowed by the Brexit news and the Fed.