Deflation Threat Looms As China Suffers First Population Decline Since 1949
A key section of the 22-page document spells out:
"In order to achieve the long-term goals in 2035, China should fully liberalize and encourage childbirth, and sweep off difficulties (women face) during pregnancy, childbirth, and kindergarten and school enrollment by all means (possible)," the four central bank researchers wrote in the English language abstract.
But Mark Williams, an economist at Capital Economics, said the low birth rate has deep-rooted demographic and social causes that are difficult to reverse. After all, the decline in the fertility rate started before the one-child policy was introduced in the late 1970s, and followed a similar pattern in other Asian countries.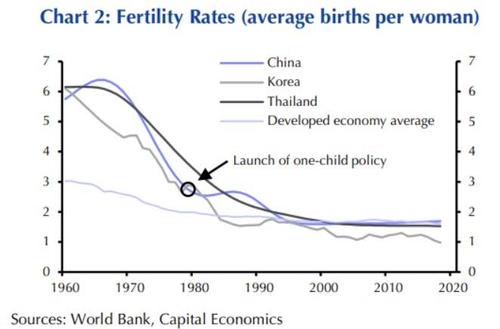 In any event, as the official China Daily stated in December, population "trends are irreversible."
The PBoC has a big dilemma on its hands. China today is drawing parallels between Japan in the late 1980s - just before its "lost decade," where the country experienced a decade of secular stagnation.
Firstly, demographics - if economic growth is a function of the number of workers and consumers in the economy and technological productivity, then a declining population in China would drag on the global economy.
China's next path could be down the dark road of deflation, similar to Japan, where the typical response to deteriorating demographics is a continued build-up in private debt, leading to soaring public debt.
The main lesson from Japan is that high debt levels result in structurally weak growth and anemic inflation. This would suggest the latest spurt of inflation rippling through the world is not sustainable. Future growth rates in China are expected to be much lower than what was seen pre-COVID.
Souring demographics would mean China's total social financing and M2 would need to increase to fill in the cracks of faltering demand as the population declines. According to Bloomberg's Ye Xie, a slowdown in credit growth could "start to shrink by July or August just as the Fed may lay the groundwork for its own tapering." This would signal deflation is ahead.