DAX 30 Heading Higher Despite German Lockdown, EUR/USD Unfazed By ECB
Germany Going Back Into Hard Lockdown
A rising rate of infections and exponential growth in the last few days is the reason why Germany will be entering a full lockdown from Wednesday, with all schools and shops closed until the 10th of January. This will affect the Christmas period, a decision made as authorities were "forced to act" Angela Merkel said, after Friday almost 30,000 infections and 598 deaths in Germany.
This move comes after a softer lockdown imposed at the beginning of November has bared fruit up until people started to meet friends and relatives ahead of the Christmas holiday. Under new rules, private gatherings of more than 5 people will be banned, and new year's eve celebrations have been strongly discouraged.
Stocks Regain Positive Momentum
In equity markets, sentiment has become more positive as there seems to be some progress on two major political fronts. On the one hand, Brexit talks are set to continue this week after Boris Johnson and Ursula von der Leyen had set yesterday as the deadline to determine the future of talks. Meanwhile, US stimulus talks seem to be going in the right direction with some analysts expecting there to be a bipartisan compromise that will lead to a deal in the next few days.
There is also increased talks about whether we will see a Santa Rally this year, which tends to see stocks rise around 1,5% in the last few trading days of December, leading into the first two sessions of the new year. But there is a strong argument that stocks are massively overbought this year, pushing along from the positive vaccine news in November, so a Santa Rally could be far-fetched.
That said, seasonal trends tend to be quite strong, and positive momentum on the expected improvement of the health situation given a vaccine roll-out might keep stocks heading higher in the new year.
DAX 30 Daily chart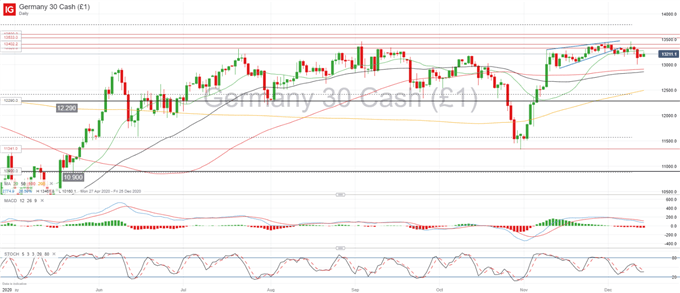 Looking at the daily chart, the DAX 30 confirmed strong support at the 13,000 level as I mentioned last week, after Friday's bearish rally was met with strong buying pressure at that level. This is likely going to continue going forward, as we need to see a stronger bearish case to consider further retracement towards the 12,500 area.
Disclosure: See the full disclosure for DailyFX here.