Copper Caper: Commodities Trader Conned By "Painted Rocks"
Over the years, we have periodically reported the occasional gold bar discovered as counterfeit in Manhattan's Diamond District. It was only until 2020 when a massive 83 tons of Chinese gold bars used as loan collateral turned out to be nothing but gilded copper. Thieves are becoming more brazen over the years as yet another commodity scam has hit a major Swiss trading firm, according to Bloomberg.
The story unfolded last summer when commodities firm Mercuria Energy Group Ltd bought $36 million of copper from a Turkish supplier. But when the 6,000 tons of copper (JJC) in more than 300 containers arrived in the Chinese port of Lianyungang in the late summer of 2020, there were only jagged paving stones spray painted to resemble the base metal.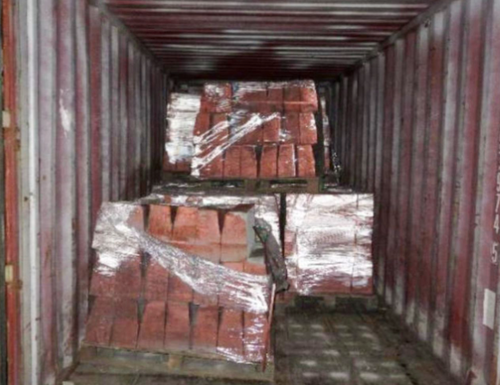 Mercuria has been subjected to fraud before. In 2014 and 2015, the Swiss commodity trading firm took covered losses via insurance claims on the metal stored in a Chinese warehouse when authorities seized it.
The latest fraud has forced Mercuria to seek damages in Turkish courts and a U.K. arbitration case against the copper supplier, Bietsa. So far, 13 people have been arrested in connection with the scam.
"Suspects have been taken under custody who are thought to be involved in the various parts of this organized crime against Mercuria," Mercuria wrote in a statement. It also acknowledged the Istanbul Financial Crimes Department for its hard work in leading to the arrests.
However, unlike past frauds, where Mercuria could claim a cargo's insurance policy - this scam has a twist. Only one of the seven contracts used by the Turkish company to insure the cargo was genuine. The rest were fake - which means there's no way for Mercuria to collect an insurance policy on the other contracts.
Legal documents pieced together from Bloomberg outlined how the thieves swapped out the real copper while sealed in containers with shiny paving stones.
Disclaimer: Copyright ©2009-2021 ZeroHedge.com/ABC Media, LTD; All Rights Reserved. Zero Hedge is intended for Mature Audiences. Familiarize yourself with our legal and use policies every time ...
more