CNH Vs CNY: Differences Between The Two Yuan
WHAT IS CNH AND CNY AND WHAT ARE THE MAIN DIFFERENCES?
CNH refers to the Chinese Yuan in the offshore market, which is outside of Mainland China (the onshore market). China's capital markets, including the FX market, are controlled and not fully opened yet. This leads to different features of the Chinese currency in the onshore and offshore markets, and thus two tickers are assigned to distinguish them.
In the onshore Mainland China market, the Chinese Yuan is called CNY. On the other hand, the offshore market includes traditional Yuan centers, such as Hong Kong (a special administrative region of China), Singapore, London and newly-developed centers such as Luxembourg.
(Click on image to enlarge)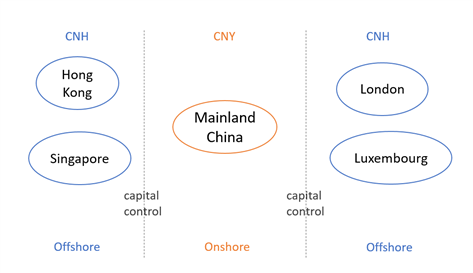 THE HISTORY OF CNY
USD/CNY Price Chart from 1992 to 2018
(Click on image to enlarge)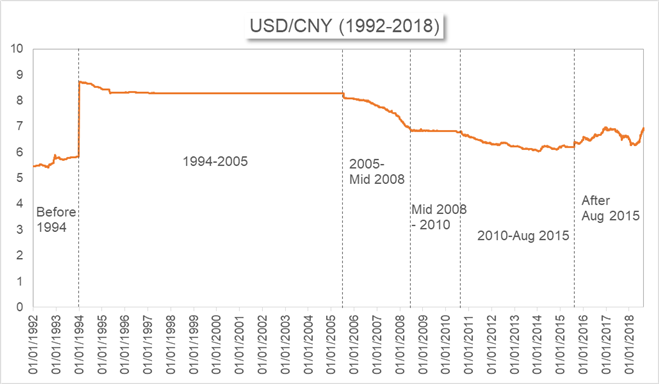 Data downloaded from Bloomberg; chart prepared by Renee Mu.
1994- 2005: A sole CNY rate was formed, signaling the start of China's modern foreign exchange rate system. Before 1994, China had two CNY rates in the onshore market, an official rate, and a market rate. The spread was significant. For example, at the end of 1993, the official USD/CNY rate was 5.8 while the market rate was 8.7. On January 1, 1994, the dual-track exchange rate system was ended, with the two CNY exchange rates merged into one.
2005 - Mid 2008: The CNY flexibility was increased. On July 2, 2005, the USD/CNY was strengthened by +2.1% from 8.2765 to 8.1100, following China's Central Bank launching a managed-floating exchange rate regime. Under the new system, the Central Bank loosened Yuan's pegging against a sole currency – USD and introduced a basket of currencies as the new reference.
Mid 2008 - 2010: The CNY was re-pegged to the USD, following the eruption of the global financial crisis in the mid of 2008. This was used as a measure to protect China's international trade during the crisis. The USD/CNY was restricted in a narrow range between 6.81 and 6.85.