Chinese Purchases Of US Soybeans Pick Up
Given the deteriorating relationship between the US and China, one would think this would result in reduced Chinese interest in US soybeans. However, China has been fairly active in buying US soybeans in recent months, although flows so far this year are still well below pre-trade war levels.
Strong Chinese demand
While Chinese demand took a hit earlier in the year, during the peak of the country's Covid-19 outbreak, we have seen a substantial recovery in demand in more recent months. In fact, June saw China import a record 11.16mt of soybeans, whilst for July, import volumes totalled 10.09mt. This leaves cumulative imports over the first seven months of the year at a record 55.14mt, up almost 18% year-on-year, and even surpassing imported volumes prior to the US/China trade war.
While crush margins in China have come off from their recent highs seen in July, they are still well in positive territory, and so demand should remain fairly robust for now.
Obviously, with US volumes to China still well below pre-trade war levels, this has left Brazil benefiting from stronger demand. However, as we transition from the seasonal peak in Brazilian supply to US supply, we should see more Chinese interest in US soybeans, something that recent US export sales data shows. Clearly though, there is plenty of risk around this if we were to see a further strain in the US/China relationship, which leads to the removal of tariff exemptions on US soybeans.
The trend in Chinese soybean imports is very clear, and not surprising, given developments between China and the US over recent years. Brazil has made up 72% of total China imports so far this year, while the US accounts for just 21% of imports. This is much improved from the 15% seen over the same period last year, but it is still well off from the 43% share seen prior to the trade war.
China monthly soybean imports by origin (m tonnes)
(Click on image to enlarge)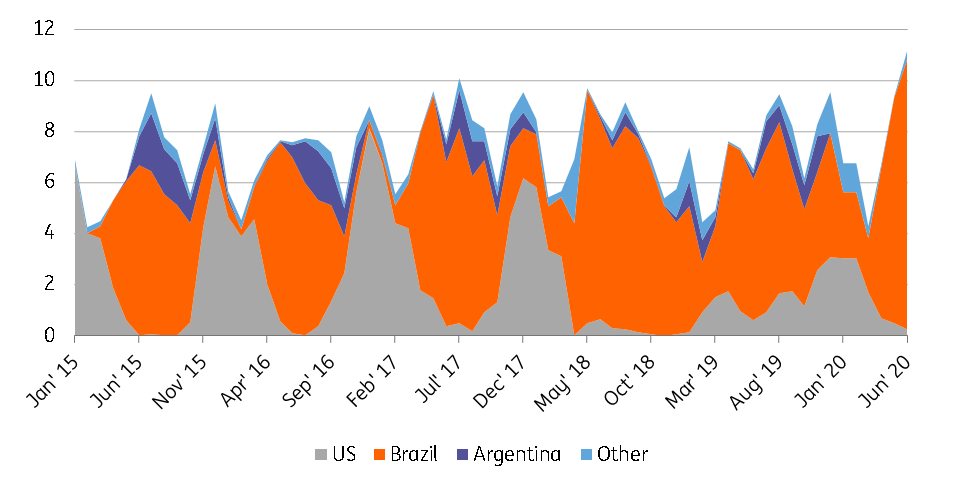 China Customs, ING Research
Disclaimer: This publication has been prepared by ING solely for information purposes irrespective of a particular user's means, financial situation or investment objectives. The information ...
more