China's One Belt One Road (OBOR) Is Bullish Commodities
What is OBOR (One Belt One Road)
One Belt One Road (OBOR) is an initiative originally coming from China's president Xi Jinping in 2013. The plan is the single biggest initiative since the opening up of China to foreign investment. President Xi called it a "project of the century". In America, globalization has lost its luster under President Donald Trump's "America First" policy. China is trying to fill the void by setting an example of globalization. The plan involves reviving the ancient Silk Road trading routes, both land and sea. The project has two main components. The first component, One Belt, involves rebuilding 21st-century maritime silk road down to Southeast Asia and the Middle East and Europe. The second component, One Road, involves rebuilding silk road economic belt, or the old silk route through Central Asia, Turkey, and Europe.
At the close of "Belt and Road" forum on May 15, President Xi pledged $113 billion in extra funding and urged other countries to join. 68 countries and international organizations have signed up for the mega infrastructure project. It's a massive global trade and investment initiative to enhance trading opportunities and also demonstrate China's global influence. The plan primarily invests and builds infrastructure in participant countries in the form of the rail network, roads, transportation, port, power, etc.
(Click on image to enlarge)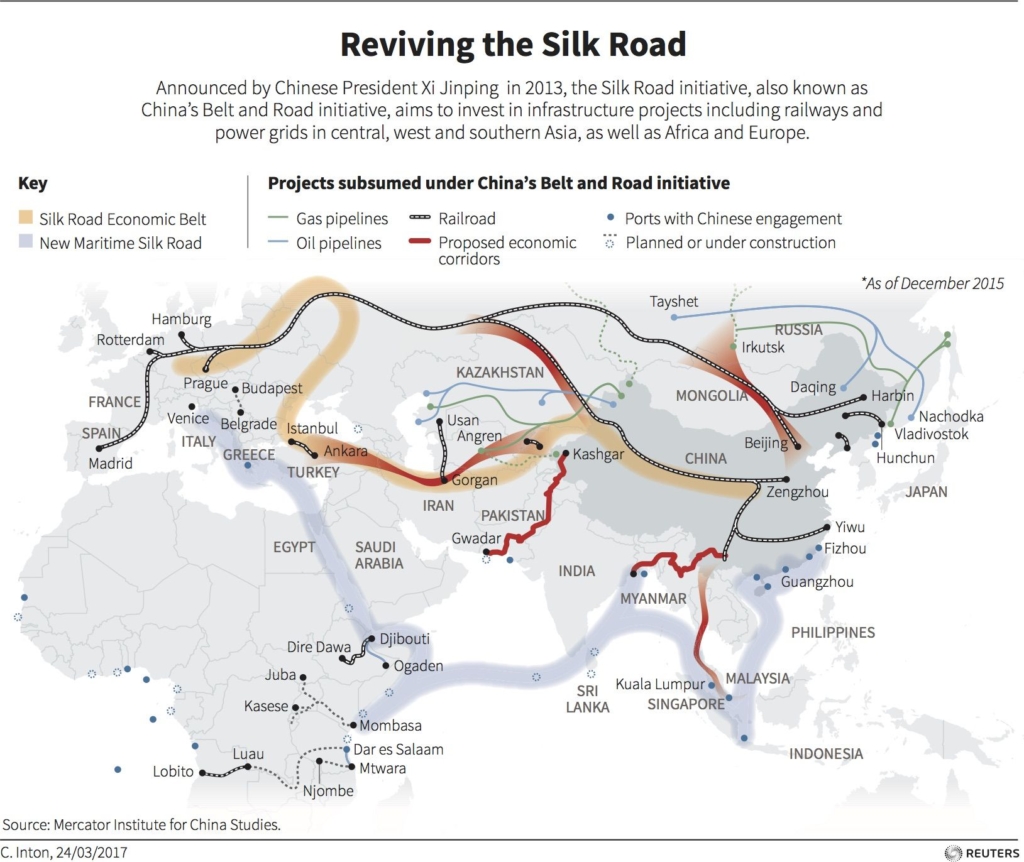 Some infrastructure projects have already been underway as part of OBOR. From Bangladesh to Belarus, railways, refineries, bridges, the industrial park is being built. A freight route linking China's eastern coast and London has already started operating. In Pakistan, there's a $46 billion investment for China-Pakistan Economic Corridor (CPEC) to build roads, energy projects, industrial parks, and Gwadar port. In Kenya, a Chinese firm has built a new railway connecting Nairobi to Mombasa.