China's Global Slump Draws Closer
By the time things got really bad, China's economy had already been slowing for a long time. The currency spun out of control in August 2015, and then by November, the Chinese central bank was in desperation mode. The PBOC had begun to peg SHIBOR because despite so much monetary "stimulus" in rate cuts and lower RRR banks were hoarding RMB liquidity.
Late 2015 was not a fun time in China. The idea of economic rebalancing had been introduced years before largely to try and suggest the permanent industrial/manufacturing slowdown was a choice. It wasn't. In the middle of 2014, the service/consumer economy started weakening, too.
According to China's National Bureau of Statistics (NBS), the country's official Non-manufacturing Purchasing Managers Index stood at 55.5 in May 2014. That wasn't all that robust, to begin with, a number more like 58 would have been consistent with what China was supposed to produce in every economic sector.
By those darkening days toward the end of 2015, however, rather than jump to rescue the Chinese economy (and therefore the global economy) the Non-manufacturing PMI had dropped to 53.1. And it wasn't an outlier, either, a low level consistent with so many other alarming statistics indicating an immense, uniform global drag.
The NBS reported last week that the same service sector PMI in November 2018 fell to 53.4, or nearly the same as three Novembers before. It was the lowest level since before Reflation #3 really got going in later 2016. China's economy isn't crashing, but it is certainly staring into the face of another downturn, the rolling over part of the process nearly complete.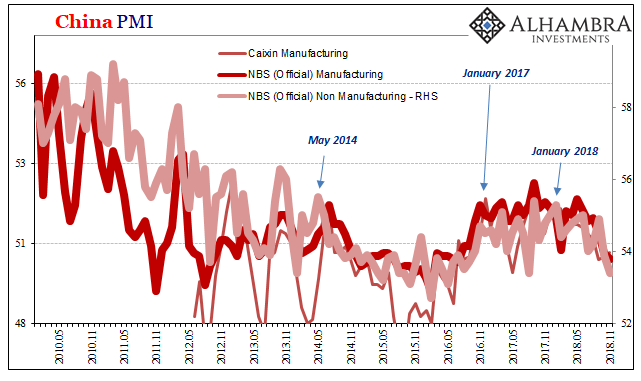 The Manufacturing PMI was right at 50.0 in November, also the lowest in several years. Sitting on the so-called divide between growth and contraction, it's never so neat and clean, the direction is likewise perfectly clear.
This is not fallout from the trade wars being waged primarily with the United States. By the count and track of the PMI's, China's economic problems began long before anyone mentioned the words retaliatory tariff. Both Chinese sentiment indications peaked all the way back in January 2017 at around the same low levels as the last cycle in 2014.
Disclaimer: All data and information provided on this site is strictly the author's opinion and does not constitute any financial, legal or other type of advice. GradMoney, nor Jennifer N. ...
more