China-US Rivalry And Gold
It's unimaginable what great progress China made in the last forty years. The rise of such economic power triggered many fears (or hopes) about the future international order. We invite you to read today's article about the rivalry between China and the US and find whether the Red Dragon will replace America as a global hegemon. And what would such a shift mean for the gold market.
The economic growth of China raises many worries. While some people fear the slowdown or stagnation in the Middle Kingdom, others claim that China will turn the existing international world upside down.
You see, since the end of World War II, the US has been the most powerful country in the world. The Soviet Union rivaled, but it was too weak and collapsed eventually. The global hegemony of the US became total then.
However, China, which is now the biggest or the second biggest economy in the world, wants to challenge this order. Some experts even claim that the world enters the so-called Thucydides' trap, i.e. the situation where the growing contender thinks that its position does not reflect its strength and that the old hegemon limits his development. When we add that a rising power causes fear in an established power, we get the recipe for a war. In 12 out of 16 historical cases of Thucydides' Trap, the result was war, as the table below shows.
Table 1: Thucydides'Trap Cases (source: belfercenter.org)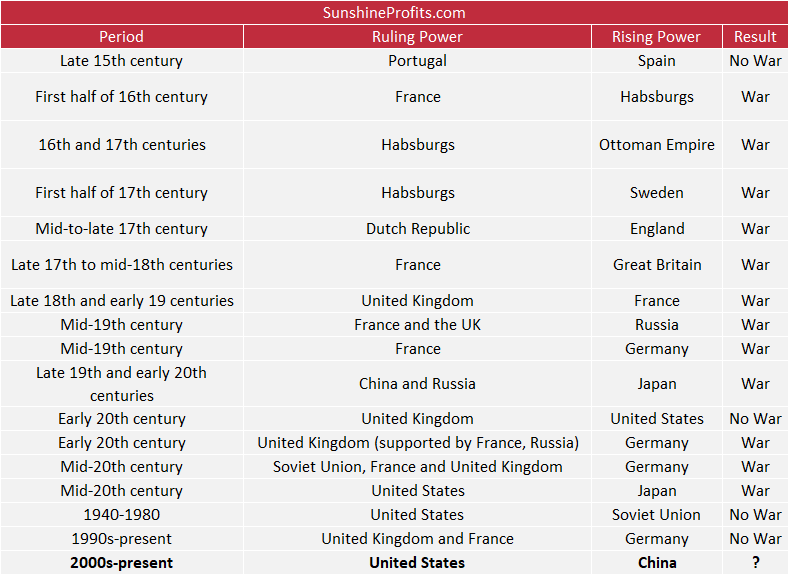 Of course, Russia also challenges the US hegemony, but the country is economically too weak. But China is different. Just one of its province has a bigger GDP than Russia. And the Chinese have really ambitious plans. They want to create a New Silk Road, i.e. a trade route running through the Eurasian land, as an alternative to the sea routes, which are still controlled by the US. And – as gold bulls often repeat – China tries to weaken the dominant position of the US dollar and strengthen the yuan.
If you enjoyed the above analysis and would you like to know more about the most important macroeconomic factors influencing the U.S. dollar value and the price of gold, we invite you to read the ...
more