China The Market Protagonists: Bad Manufacturing PMI Data And Restrictions On Video Games
This reduction in manufacturing industrial activity can partly be explained by the problems generated by the rapid expansion of the delta variant of the coronavirus and by the floods registered in the Asian country during the last weeks.
If as we mentioned in our previous analysis on the Hang Seng index this was being one of the worst performed indices during the first half of the year, rising only 5.86%, due to the beginning of the strong correction last February, this slowdown in the economy is affecting the Chinese indices even more, since during the months of July and August the Hang Seng index has lost more than 10.20% after breaking down the side channel represented by the green and red bands. Therefore, after these declines, this index loses 4.97% so far this year.
Technically speaking, the price has met the channel's target so it could be forming a double bottom at the annual lows represented by the red lower stripe. On the other hand, if we look at both its stochastic indicator and its MACD indicator, we can observe a positive divergence with the price, so the rebound in the lows could be reinforced although, for this, it is crucial that the price manages to overcome its 18-session moving average that acts as the main resistance level.
On the other hand, the loss of the current support could open the doors to a further correction to the level close to 23,950/24,000 points.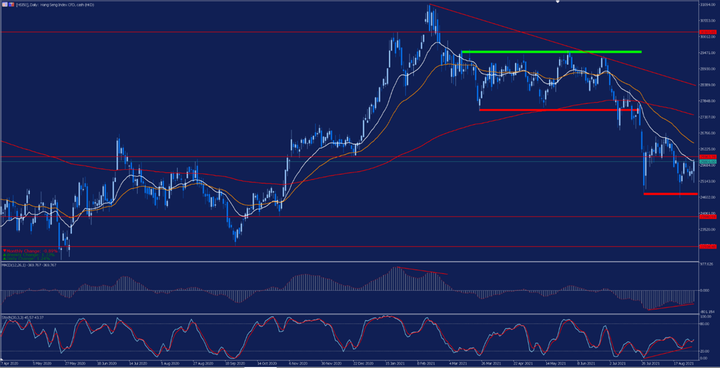 Source: Admiral Markets MetaTrader 5. Daily chart of HSI50. Data range: from April 7, 2020 to August 31, 2021. Prepared on August 31, 2021 at 11:20 a.m. CEST. Please note that past performance does not guarantee future returns.
Evolution in the last 5 years:
2020: -3.40%
2019: 9.07%
2018: -13.61%
2017: 35.99%
2016: 0.39%
Disclaimer: The given data provides additional information regarding all analysis, estimates, prognosis, forecasts or other similar assessments or information (hereinafter ...
more