China Reports Stronger Than Expected GDP, Is Only Major Economy To Grow In 2020
China, which a little over a year ago unleashed a global pandemic on the world which reshaped economies, global supply chains, capital markets, and societies and was directly responsible for the downfall of a US president, was hell-bent on demonstrating that it was the biggest winner from said plague, and early on Monday local time, Beijing's National Bureau of Statistics announced that Gross Domestic Product in 2020 growth beat expectations of 6.2% to reach 6.5% in the fourth quarter of last year, with the economy expanding 2.3% for the full year 2020, making China the only major economy to expand last year on the back of an unprecedented multi-trillion credit expansion.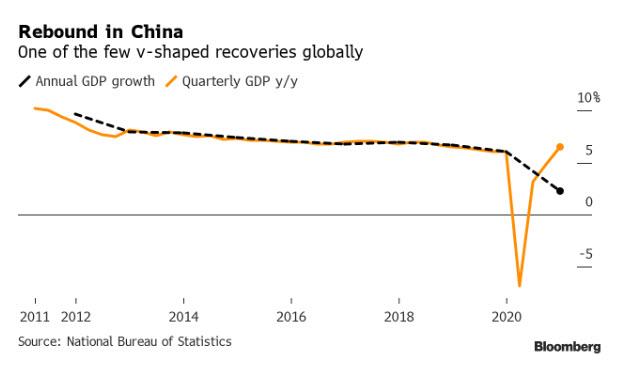 That China's sprawling economy managed to calculate all this just two weeks into the new year was perfectly normal as nobody actually believes any "data" out of China; instead, all that matters is what Beijing wishes to telegraph to the outside world, and for now that message is "all is well."
The "data" underlines a rapid turnaround in the world's second-largest economy, which declined in early 2020 for the first time in more than four decades after the country was hit by the pandemic and authorities imposed a harsh lockdown.
The recovery was aided by record fiscal and monetary stimulus that boosted investment in infrastructure and real estate. Once China had virus cases under control and factories were able to resume production, growth was spurred by strong overseas consumer demand for Chinese exports, especially medical equipment and work-from-home devices.
Despite the stronger than expected GDP, overall December activity data were mixed - industrial production growth was stronger than market expectations, but retail sales and fixed investment growth were below market expectations. In particular, December industrial production came in at +7.3% yoy, above market expectations, and was faster vs. November. Based on IP by major product data, cement production decelerated to 6.3% yoy in December from 7.7% yoy growth in November; steel product production grew 12.8% yoy in December vs. 10.8% yoy in November; electricity production accelerated to 9.1% yoy, from +6.8% in November. Meanwhile, retail sales missed expectations and slowed from November - in December, retail sales growth was 4.6% yoy, vs. +5.0% in November. Automobile sales growth slowed to +6.4% yoy (vs. +11.8% yoy in November). Fixed investment growth also weakened in December. On single monthly basis FAI growth was +5.1% yoy in December (vs. +9.4% yoy in November), and on a full year year-over-year basis, FAI growth was +2.9%yoy in 2020, below market expectations.
Disclaimer: Copyright ©2009-2021 ZeroHedge.com/ABC Media, LTD; All Rights Reserved. Zero Hedge is intended for Mature Audiences. Familiarize yourself with our legal and use policies every ...
more