China Quarterly Update: Technology Vs Bricks And Mortar
Lockdowns and social distancing measures are short-term issues for the Chinese economy as a result of the Covid-19 pandemic, but solutions for the recovery affect structural growth. The government has chosen to bet on advanced technology but the quick answer as always is old school infrastructure projects using bricks and mortar. So, debt is on the rise.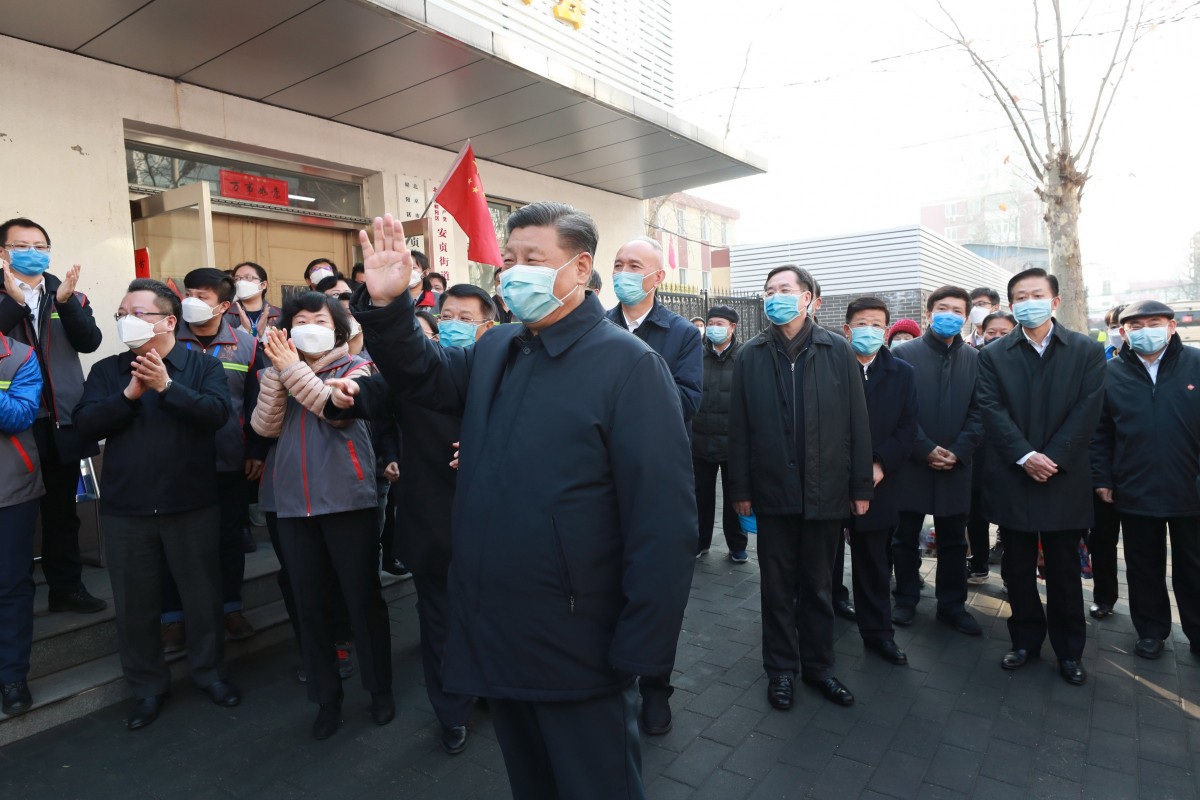 Covid-19's impact on the Chinese economy
The Covid-19 health pandemic has had at least two major effects on the Chinese economy:
External demand has been weak, and is likely to continue to be so, as a result of Covid-19 lockdown and social distancing measures, and therefore impacting China's export orders and hurting manufacturing and export businesses.
Domestic demand in terms of retail sales has been subdued due to social distancing measures.
Covid-19 also makes the US-China 'phase-one' trade agreement less promising. Though China and the US seem to have agreed to uphold the agreement, there are risks that China may import fewer agricultural products from the US.
China will now require food importers to declare that agricultural products have not been contaminated by Covid-19 and this might prompt America to accuse China of not following through on the agreement quickly enough. China has argued that the slow progress is a result of Covid-19.
China's manufacturing PMI breakdown
(Click on image to enlarge)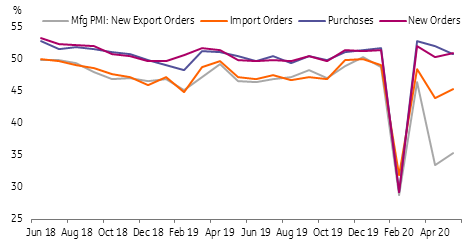 Source: CEIC, ING
Another important imminent risk: The technology war
Apart from Covid-19, more Chinese technology firms have been included in the US 'unreliable entity list' in 1H20, which restricts US companies from selling products and services to Chinese tech firms. Some western countries have joined the US banning specific Chinese tech companies, especially if the technology is 5G infrastructure and smartphone-related. It means Chinese technology companies will experience deteriorating sales to foreign companies.
In the longer term, it means fewer technological exchanges between China and more advanced economies. China has decided to dedicate more resources to advanced technology research and development so that it can be self-reliant going forward.
Positive structural factors
China's new foreign investment law, which in principle means that foreign companies will receive the same treatment as their Chinese counterparts, has come into effect since 1 January 2020.
To move towards a technologically advanced economy, the government has set a scheme of "new infra", which contains 5G infrastructure, Artificial Intelligence, Industrial Internet of Things (IIoT), big data centres, ultra-high voltage connectors, and high-speed rails. China has also built its own 'unreliable entity list' that can block out foreign companies from doing business with domestic firms. But at the time of writing this report, the unreliable entity list has not yet been triggered.
Massive capital outflows aren't a big concern. China's capital account is not completely open, which is why there are no substantial capital outflows. Even if there was a demand for fund outflows, there are very few channels to do this. On the other hand, the cross border fund regulator (SAFE) has introduced policies that welcome more capital inflows in 2020, e.g. the quota system for foreign asset investments in China has changed to a post-investment registration system, which means there is no limit of inflows into China. Moreover, the sovereign yield spread between China and the US has been positive, which has been an attractive factor for multinational companies operating in China.
Interest rate liberalisation in progress. The People's Bank of China has created the loan prime rate to replace the benchmark lending rate. But there is still a long way to go to reform the whole process so that the central bank relies on only one short term interest rate as its policy rate. Before the interest rate liberalisation process is complete, the CNY exchange rate cannot be expected to be free-float.
Disclaimer: This publication has been prepared by ING solely for information purposes irrespective of a particular user's means, financial situation or investment objectives. The information ...
more