China Injects Record Amount Of Loans In January
On one hand, China is desperate to tell the world that this time it is taking deleveraging of the world's largest and most indebted financial system seriously. On the other hand, it is doing this: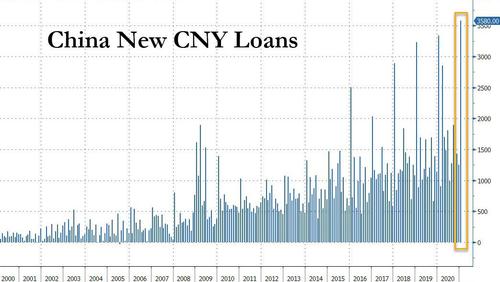 The chart shows that in January, China created a staggering, record 3.58 trillion in new yuan loans, a number which easily surpassed the previous record of 3.340 trillion set last January just as the Chinese economy shut down as a result of COVID when only gargantuan credit injections prevented a total economic collapse in the world's 2nd largest economy. It's almost as if only ever greater credit injections are keeping China alive.
Because it wasn't just new loans: the broadest Chinese credit aggregate, Total Social Financing which includes new loans as well as shadow debt creation and bond issuance, also exploded to a monstrous 5.170 trillion yuan, which at today's exchange rate is roughly $800 billion.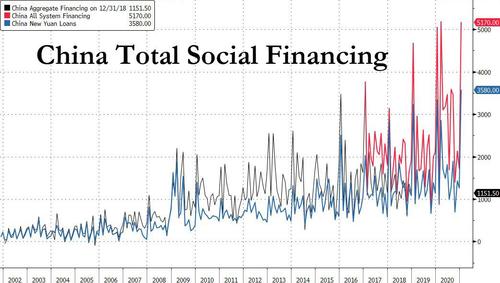 That's right: in one month China injected roughly 6 months of QE into the economy. And to think of all the praise Stanley Druckenmiller heaped just a few days ago on China for its "fiscal sanity".
Here are the details:
New CNY loans: RMB 3580Bn in January vs. consensus: RMB 3500bn. Outstanding CNY loan growth: 12.7% yoy in January; December: 12.8% yoy (12.1% SA ann mom).
Total social financing: RMB 5170bn in January, vs. consensus: RMB 4600bn.
TSF stock growth (after adding all government bonds) was 13.2% yoy in January, lower than 13.4% in December. The implied month-on-month growth of TSF stock accelerated to 12.0% (seasonally adjusted annual rate) from 7.8% in December.
M2: 9.4% yoy in January (1.0% SA ann mom) vs. GSe: 10.0% yoy, Bloomberg consensus: 10.1% yoy. December: 10.1% yoy (2.6% SA ann mom estimated by GS).
So yes, anyone who only looks at the M2 - like Druck - would be left with the impression that China is barely adding to the Chinese debt. That would be dead wrong as nothing could be further from the truth.
Disclosure: Copyright ©2009-2021 ZeroHedge.com/ABC Media, LTD; All Rights Reserved. Zero Hedge is intended for Mature Audiences. Familiarize yourself with our legal and use policies every ...
more