China Exports Jump By Most Ever As Global Economy Redlines
As a reminder, we recently showed that in a surprising regime change, over the past year there has been a sharp reversal in the long-running discrepancy between US and Chinese trade data, where China's trade balance with the US reported by Beijing ha collapsed and is now far below the complimentary US data set. We await the latest US trade data to see if these two series will eventually converge.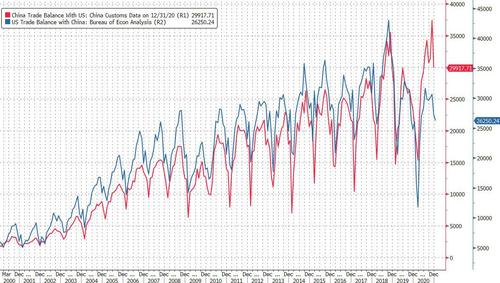 The customs agency said the strong trade data reflects improving demand in major trading partners like the U.S. and Europe, a domestic recovery that's fueling import growth, and base effects from last year's slump, but the reality is a little different.
By major export category, "working from home"-related exports and Covid-19 related personal protection products remained strong in January-February. In other words, China continues to directly benefit from a massive export burst as a result of the pandemic it itself spread around the world. Even the notoriously pro-China Bloomberg admits that "the data shows exports continued to benefit from soaring global demand for medical equipment and work-from-home devices, which has helped to underpin China's V-shaped recovery from the pandemic since the second half of the year." Almost as if China stood to benefit from unleashing a global plague...
Growth of exports in automatic data processing machines surged 80% yoy in January-February (vs. 54.5% yoy in December), though growth of exports in electronic integrated circuits moderated slightly to 30.8% yoy in January-February from 39.4% yoy in December. Exports of textile & fabric goods rose 60.8% yoy (vs. +11.7% yoy in December) and exports of plastic articles grew 82.5% yoy (vs. 90.2% yoy in December). Other major drivers to the export strength include furniture and lightnings. Exports of furniture grew 81.7% yoy and lightnings surged 122.1% yoy in January-February.
Exports also benefited from a shorter-than-usual vacation for migrant workers during this year's Lunar New Year break and the early resumption of factory production. Travel restrictions imposed early in the year prevented many workers from making their annual trip home during the holiday.
Disclaimer: Copyright ©2009-2021 ZeroHedge.com/ABC Media, LTD; All Rights Reserved. Zero Hedge is intended for Mature Audiences. Familiarize yourself with our legal and use policies every time ...
more