Central Bank Watch: BOE And ECB Interest Rate Expectations Update
INFLATION MAKING CENTRAL BANKERS UNEASY
In this edition of Central Bank Watch, we'll cover the two major central banks in Europe: the Bank of England and the European Central Bank. Neither of Europe's most significant central banks won't meet again until later this month, allowing for the EUR- and GBP-crosses to toy with speculation over forthcoming policy moves. And while one of the central banks has begun to throttle back its QE program, the other is grappling with its desire to provide additional stimulus against the backdrop of rising inflationary pressures.
BOE KEEPING CALM, BUT WARNS OF INFLATION
The BOE has already made the adjustment to its bond-buying program so that it will no longer reach its £875 billion target in early October. QE continues but at a slower pace. But in recent days, BOE Chief Economist Andy Haldane has rung the alarm bell about inflation, suggesting that the BOE may have some more hawkish inclinations than what's currently priced-in.
At a UK Treasury Select Committee hearing last week, the BOE's chief economist said that "an upside surprise to inflation is among the greatest risks" as it would force policymakers "to tighten policy even more rapidly or on a more significant scale, or possibly both, in a way that would take the legs out of the recovery." Stagflation, of course, is the concern here, leading to the classic catch-22: high inflation necessitates higher interest rates, which could lead to lower growth rates.
BANK OF ENGLAND INTEREST RATE EXPECTATIONS (JUNE 1, 2021) (TABLE 1)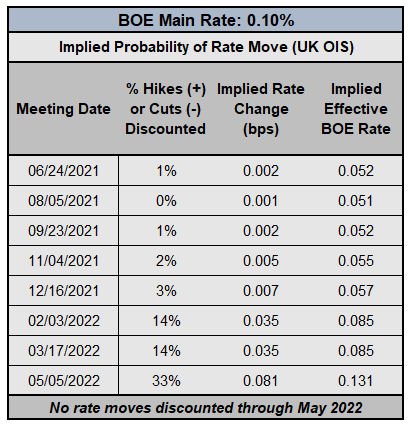 If BOE Chief Economist Haldance is sounding the alarm on inflation, it makes sense that markets are taking it as a sign that the BOE may prove more sensitive to rising price pressures than other central banks and be quicker to act. According to overnight index swaps, while there is only a 3% chance of a 25-bps rate hike in 2021, there is a 33% chance of a hike over the next 12-months.