Central Bank Watch: BOE & ECB Interest Rate Expectations Update
Starting to Scale Back Pandemic Measures
In this edition of Central Bank Watch, we'll cover the two major central banks in Europe: the Bank of England and the European Central Bank. The ECB's June meeting is in the rearview mirror, while the BOE is due up in two weeks' time. While the latter has started to scale back its QE program, the former has started to offer hints that it too will soon move in that direction.
BOE Watching Inflation
The BOE meets in two weeks for its June meeting, having just produced a Quarterly Inflation Report at their prior policy meeting, its unlikely that any changes are made to either asset purchases or interest rates. The BOE has already adjusted its bond-buying program so that it will reach its £875 billion target at its intended end date at the end of the year; BOE QE is continuing for now, just at a slower pace.
In the interim period, BOE Chief Economist Andy Haldane remains in the news cycle, continuing to color BOE policy at the margins. At the end of May, the BOE's chief economist said that "an upside surprise to inflation is among the greatest risks" as it would force policymakers "to tighten policy even more rapidly or on a more significant scale, or possibly both, in a way that would take the legs out of the recovery." This week, the BOE's Haldane offered some dovish leanings, suggesting that the UK labor market has "pretty acute" uncertainties.
Bank of England Interest Rate Expectations (June 10, 2021) (Table 1)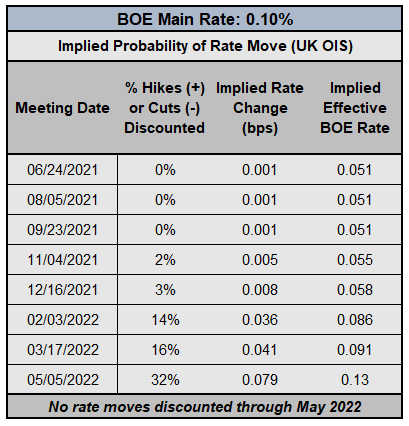 Threading the needle on BOE Chief Economist Haldane's comments, the inflation alarm ringing while the UK labor market remains uneasy suggests that stagflation is a growing risk. For now, this equates to the potential for a more rapid withdrawal of asset purchases, even if interest rates are unlikely to move anytime soon. According to overnight index swaps, while there is only a 3% chance of a 25-bps rate hike in 2021, there is a 32% chance of a hike over the next 12-months.