Central Bank Watch: BOC & ECB Interest Rate Expectations Update
CENTRAL BANKS COMING INTO FOCUS
In this edition of Central Bank Watch, we'll cover two of the first two major central banks to hold rate decisions in 2021: the Bank of Canada and the European Central Bank. The two central banks are quite different, insofar as the ECB's firepower is on par with the Federal Reserve's, while the BOC's lags far behind. Furthermore, the Euro is considered among the global reserve currencies while the Canadian Dollar is not. But both central banks face the same problem: a weaker US Dollar in recent months that has provoked appreciation in their currencies, which threatens to dampen exports and cause drag in the recovery from the coronavirus pandemic.
BANK OF CANADA WARNS ON CAD STRENGTH
While the Bank of Canada stood pat at its first meeting of the year, Governor Tiff Macklem did not mince words over the problem that an appreciating Loonie is posing for the Canadian economy. "In this situation where we've seen this broad-based US dollar deprecation that doesn't reflect some positive development in Canada that the exchange rate is absorbing…the exchange rate is starting to create a material headwind for the Canadian economy." Furthermore, it was noted that the recent Canadian Dollar appreciation "is weighing on our exports and its also making it harder for our domestic producers to compete against firms in other countries."
Unfortunately for the BOC, there's not much that can be done to prevent the Canadian Dollar appreciation vis-à-vis USD/CAD, at least, as Governor Macklem concedes, when "in a situation where our Canada-U.S. exchange rate is moving largely because of made-in-U.S. developments as opposed to made-in-Canada developments."
BANK OF CANADA INTEREST RATE EXPECTATIONS (JANUARY 21, 2021) (TABLE 1)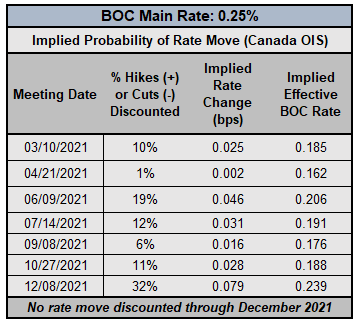 Accordingly, traders are largely seeing the Bank of Canada as posturing about their ability to keep the Canadian Dollar weaker, particularly as global growth accelerates and vaccine distribution spreads. Through December 2021, there is only a 32% chance of a 25-bps rate hike by the BOC, up meaningfully from the 7% cut odds in place at the start of the year. Markets are betting that Canadian Dollar strength will continue.