E

Cannabis Central: Dismal Month For Every "Pot" Stock & ETF Except Neptune Wellness Solutions Inc.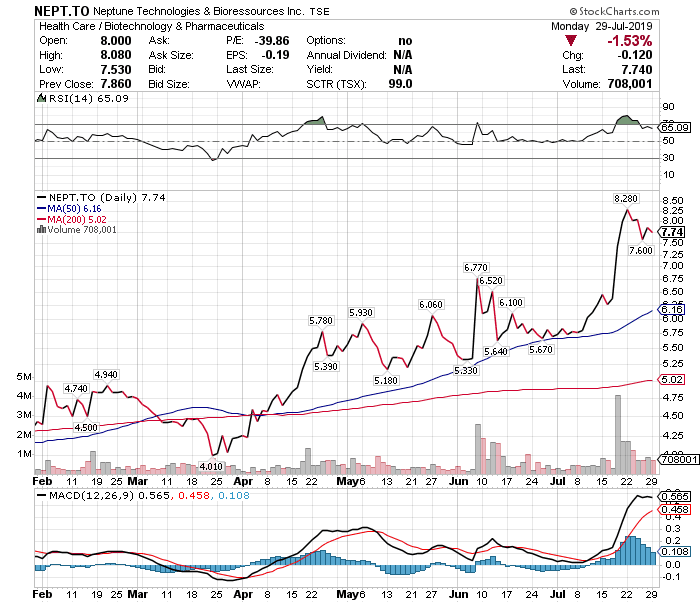 Such a one-of-a-kind performance begs the question : "Why?" Well, the mid-July spike occurred as a result of heightened consumer confidence given the fact that Neptune Wellness:
secured $41.4 million in funding through a private placement which will help the company improve its cash positions which had recently dropped to only $9.8 million,
plans to soon begin offering its extraction and purification services to American companies that want to create hemp-based consumer products for the rapidly developing U.S. hemp market and to fulfil that objective
plans to acquire SugarLeaf Labs and Forest Remedies LLC, an American company, which will allow it to expand its capacity as a hemp-based CBD producer considerably upon completion of the acquisition on July 31st,
intends to increase its extraction capabilities to 1,500 metric tons soon from its current capacity of 200 metric tons,
has applied for an operating license from Health Canada so it can sell all the above mentioned 200 metric tons,
has recently entered into a 3-year agreement with cannabis major Tilray (Nasdaq: TLRY) whereby Tilray will supply Neptune with 125,000 kilos of hemp and cannabis biomass for extraction and purification and
has reached another multiyear extraction agreement with The Green Organic Dutchman (TSX:TGOD) (OTCQX: TGODF) whereby The Green Organic Dutchman company will supply Neptune with 230,000 kilos of cannabis and hemp biomass for extraction and purification. The said output will then be used to manufacture specific products by TGOD.
Given the above it is hardly surprising that investors are excited and that a dramatic increase in stock price has occurred.
Honourable mention goes to:
Disclaimer: In spite of the positive outlook for the above stocks this article highlights the fact that "pot" stocks are very volatile so it imperative that any investor contemplating ...
more