Canadian Dollar's Shifting Sentiment May Boost Short Term Prospects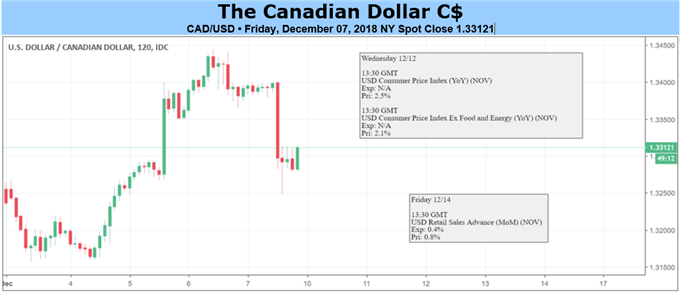 FUNDAMENTAL FORECAST FOR CAD: BULLISH
TALKING POINTS:
Expectations for future Bank of Canada interest rate hikes drop
OPEC agreement to cut oil production to support the Loonie
Event risk to the US Dollar may benefit its Canadian Dollar counterpart
The Canadian Dollar depreciated slightly against its US Dollar counterpart from the 1.3250 level to 1.3300 USD/CAD over the last week of trading. This occurred against a volatile backdrop due to the anticipated policy interest rate decision from the Bank of Canada (BOC), releases of key economic data and speculation over OPEC leaders gathering to agree on curbing oil output.
As widely expected, the BOC decided to maintain their overnight policy rate target at 1.75 percent. In its press release immediately following the decision, Canada's central bank struck a cautious tone over recent economic developments at home and globally. Key concerns cited cratering oil prices, muted business investment and slowing growth across major developed countries. Consequently, markets interpreted the comments as dovish and significantly reduced their expectations for future rate hikes. However, the steep drop in expectations could be an exaggerated knee-jerk reaction.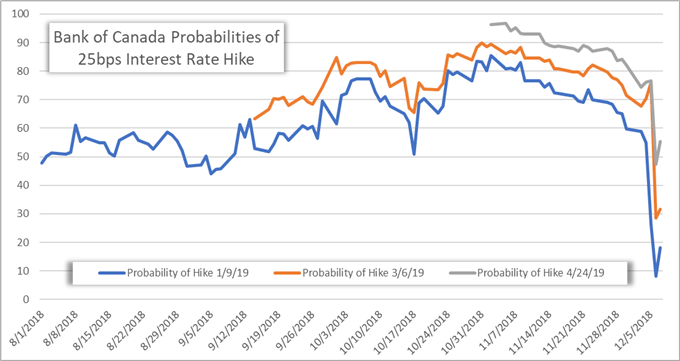 The implied probability of future rate hikes declined for most of November paralleling oil's steep selloff over the period due to a worsening supply glut as fears of a deteriorating global economy mount. BOC noted that the country's energy industry "will likely be materially weaker than expected." In turn, this may evolve into a major headwind for the Canadian economy as well as the Canadian Dollar seeing that oil production accounts for $170 billion out of the country's $1.8 trillion GDP – just shy of 10 percent of total economic output. While the BOC stated that the Canadian economy expanded in line with projections for the third quarter, this could change over the final months of the year as economic data is suggesting positive momentum is fading.