Canada Inflation Preview: Things Are Looking Good At The Core
While inflation is likely to fall back in January, the underlying story looks better and is one reason why we expect at least one more hike from the Bank of Canada in 2019.
Source: Shutterstock
December's headline inflation brought an upside surprise, but given that this was mainly down to seasonal factors (which helped offset the decline in gasoline prices), it is unlikely we'll see a repeat in January's data.
Instead, we expect the downward trend in headline inflation to resume as weak energy prices continue to feed through. We should see the annual figure come down to 1.6% from 2.0% in December.
January should take the brunt of the late-2018 decline in oil prices
Despite a better start to 2019 for crude (Brent rose from 54 to 61 USD/bbl between December and January), oil prices tend to translate into gasoline costs with a one-month lag. That means the late-2018 oil price plunge is still working its way through. You can see from the chart below that, on an annual basis, average gasoline prices are falling increasingly rapidly.
Average gasoline prices have fallen rapidly and it's likely headline inflation will follow a similar path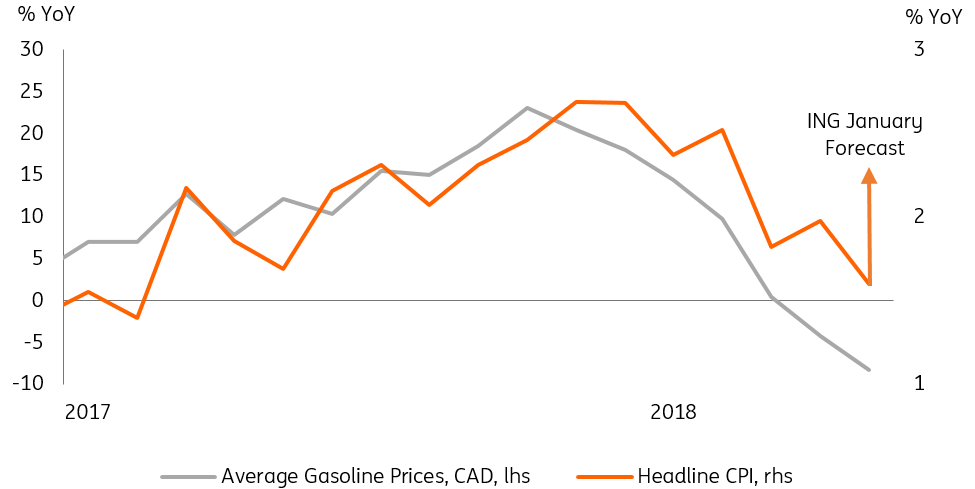 Source: Macrobond
Wage growth: New year, new me?
For the Bank of Canada though, the focus is on the core measures of inflation, which have stayed stable at 1.9% on average even though wage growth was persistently weak through 2019, which you might have expected to have begun weighing on core inflation itself.
That said, these reasons for caution have diminished a little since the start of the year, following a welcome pick-up in average hourly wages for full-time workers. After seven months of consistent declines, the figure shifted up from its recent lows of 1.5% YoY to 1.8% in January.
But we aren't getting our hopes up too soon just and will be closely watching the next employment report due 8 March. Having said that, there are some reasons for optimism, with business surveys suggesting firms view labor availability as an increasing constraint on production, which would point to further upside in wage growth over the coming months.
Disclaimer: This publication has been prepared by ING solely for information purposes irrespective of a particular user's means, financial situation or investment objectives. The information ...
more