Can Spain Lead Europe To Greater Economic Freedom?
The 2019 edition of the annual Heritage Foundation Index of Economic Freedom[1] shows moderate slippage in the rankings of some eurozone economies. This is a concern, especially as this trend coincides with the peak of the largest monetary stimulus in European Union history, the goal of which was to provide EU economies with opportunities to modernize and to implement important structural reforms aimed at delivering more robust growth, more sustainable job creation, and the generation of higher-quality job openings.
In the midst of this decline in Europe, Spain's 2019 economic freedom score has demonstrated encouraging improvement. It rose to 65.7,[2] making the Spanish economy the 57th freest in the 2019 Index, aided by a significant increase in fiscal health after tax cuts in 2015 and 2016 helped to boost the economy while preserving budgetary stability. Spain is ranked 28th among 44 countries in the Europe region in 2019, and its overall score is below the regional average but above the world average.
This paper will examine how the next government in Spain can continue on that upward trajectory in the years to come and propel the country to leadership in a race to the top for greater economic freedom in Europe.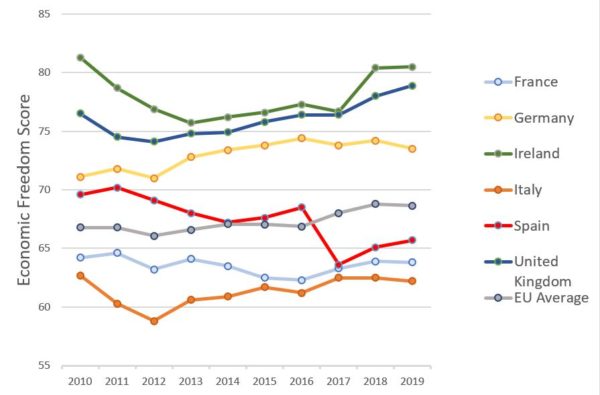 A Role Model for Europe
Under the government of former Prime Minister Mariano Rajoy, which was in power from 2011 to 2018, Spain became something of a role model for how a country can implement significant and vitally necessary structural reforms during a financial crisis. Its labor market reform was key in stopping the massive increase in unemployment, but other crucial reforms also played an important part in the country's rebound.
Spain's subsequent recovery from its worst economic crisis in decades was impressive, especially because relatively few international observers expected the country to deliver consistent above-trend growth and rapid job creation. Between 2012 and 2017, Spain recovered more than half of the jobs lost during a crisis that was initially: (1) denied by the previous Socialist administration of José Luis Zapatero (in office from 2004 to 2011); and (2) afterwards exacerbated by Zapatero's misguided policies, deficit spending, and mounting structural imbalances.
Since then, Spain has slashed its fiscal deficit by 70 percent and brought what had been a dangerously high trade deficit nearly into balance. The fact that exports have risen to 33 percent of GDP is also relevant, as Spain´s largest trade partners have remained stagnant or in recession during the same period.
External factors have helped, of course. Support from the European Central Bank (ECB), low-interest rates, and cheap oil prices support the economy, but those factors should have also helped other European economies such as Italy, which are similarly vulnerable to volatile energy prices and interest rates. Nevertheless, it has been Spain that has created more than 1.5 million jobs in the past three years—the second-highest country in the European Union in terms of full-time job creation.
The main reason for the difference in performance of Spain relative to neighboring EU countries has been the achievement of a very ambitious set of structural reforms: A financial reform that helped change the perception of risk of the Spanish financial system; A labor market reform that turned around a seemingly unstoppable trend of rising unemployment and recovered jobs and salaries; A moderation in government spending without reducing social expenditures and; A fiscal reform in 2015 that reduced corporate and income taxes. Public debt, although elevated, has been contained relative to GDP in the past three years.
These have been deciding factors that have driven a recovery in which inflation was non-existent and global trade growth was slowing down. These structural reforms were achieved at a high political cost, however, as has been the case over the years in numerous other countries where tough decisions had to be made.
In the case of Spain, the Rajoy government paid that political price when it was unable to secure an absolute majority in the elections in 2015 and 2016 and, ultimately, was forced from power in 2018. A weak minority socialist government under Prime Minister Pedro Sánchez replaced it and proceeded to lose a variety of damaging internal forces that, together with some negative external developments, could put the Spanish recovery in jeopardy and weaken the economy again.
By James M. Roberts and Daniel Lacalle, Ph.D. (Published by The Heritage Foundation)
James M. Roberts is Research Fellow for Economic Freedom and Growth in the Center for International ...
more