Britain, Brexit And Boris's Big Majority
Watch our video on the poll result below
Brexit and the pound after Johnson's big win
ING's Chris Turner and James Smith take a look at Britain's path to Brexit after Boris Johnson's big win in the UK general election
GBP/USD jumped sharply on the exit poll news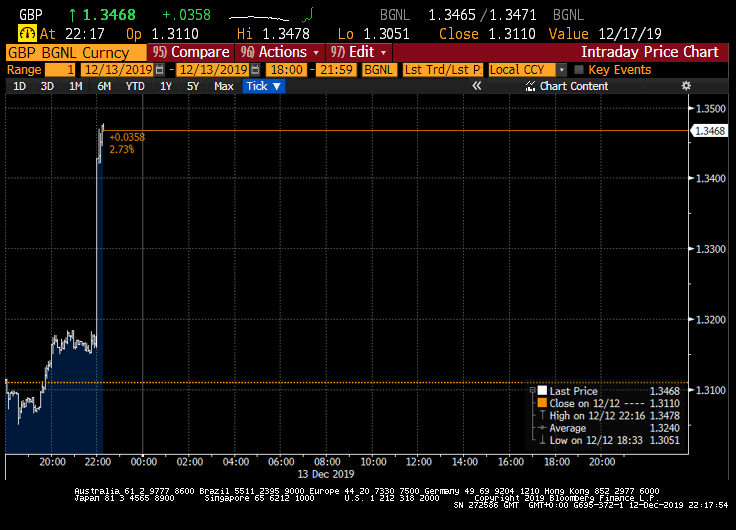 2020 will still be an uncertain year for the UK economy
So until we get more clarity on the transition, this all means the start of 2020 will be an uncertain phase for the UK economy. For many firms, an abrupt end to the transition period – which would see the majority of the UK leave the single market and customs union – would be very similar to a 'no deal' Brexit.
Even if an extension is ultimately agreed, there's a clear risk this doesn't happen before the EU's June deadline. If that's the case, then firms will likely allocate extra resources to contingency planning. Alongside weak capital spending, this could amplify the current fragility in the jobs market.
But if an extension can ultimately be agreed, a cloud of uncertainty would lift. If coupled with better global activity and an improved jobs backdrop, this would probably persuade the Bank of England to steer away from interest rate cuts next year.
Either way, it's worth remembering that is could still be some time before we get better clarity on the future relationship for specific industries. Investment will remain capped.
What a large Conservative majority could mean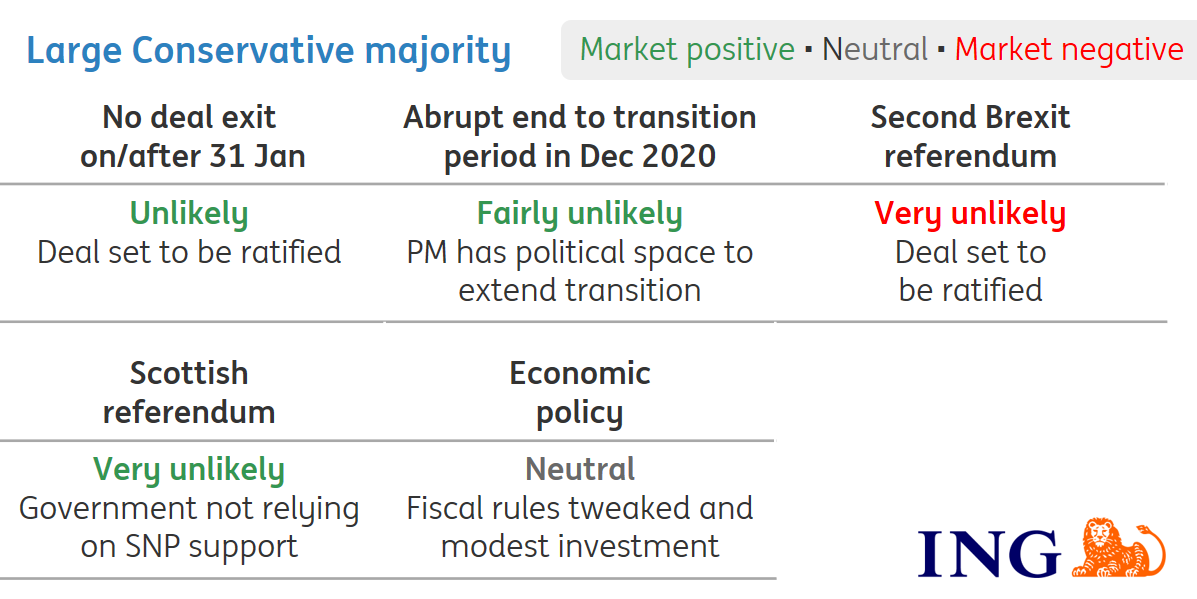 Source: ING
Conservative majority positive for the pound
Understandably the pound surged on news that the Tories could secure a thumping majority. In previous articles, we had highlighted how the FX options market was pricing a +/- 190 pip move in GBP/USD on election day and in fact we've already seen a 310 pip move taking GBP/USD close to 1.35.
Large working majorities have typically been good for the pound over the last forty years and under a scenario of a large Conservative majority we had a short-term target for GBP/USD at 1.35 – already hit. We ultimately expect GBP/USD pushing onto the 1.38/40 area through 2020, assuming a Brexit transition extension is negotiated.
The information does not constitute investment recommendation, and nor is it investment, legal or tax advice or an offer or solicitation to purchase or sell any financial instrument. more