BOE Preview: Green Light To Gains? Three Ways The Bank Can Boost The Pound
3) Loud silence on yields
Several major central banks are worried about rising bond yields and some have even acted to bring them down. The US Fed is happy to see better returns on US debt and is only concerned about the pace of change. What about the BOE?
Returns on ten-year UK Gilts have returned to pre-pandemic levels:
(Click on image to enlarge)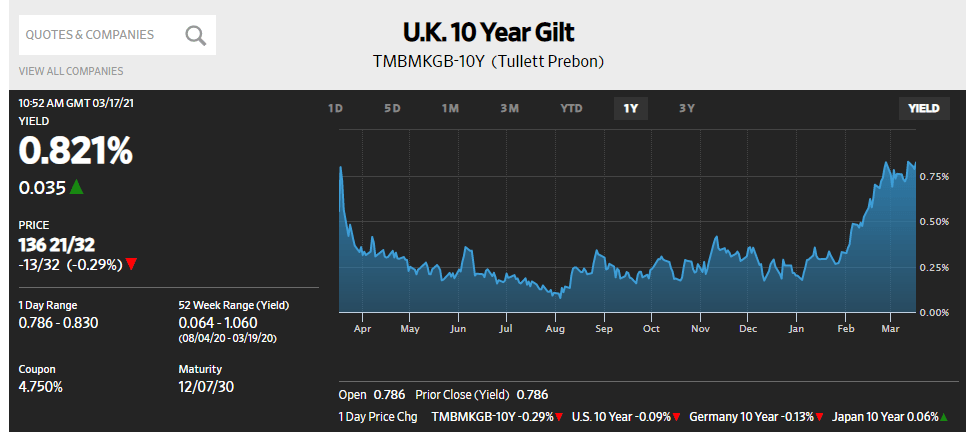 Source: WSJ
So far, the BOE has been reluctant to discuss the topic – and may refrain from talking about yields in its statement nor in its accompanying meeting minutes. Moreover, at this March meeting, the bank does not hold a press conference, giving reporters no chance to discuss the topic.
This "sound of silence" is powerful and would allow the returns to continue higher – carrying sterling higher with them.
Bonus and Conclusion
An extra boost to the BOE's forecasts comes from across the pond – America's recently approved stimulus funds are also set to propagate around the world, indirectly boosting demand for British goods.
The BOE's decision is set to pale in comparison to the Fed's but may provide pound bulls ammunition to push higher – for all the good reasons.
Disclaimer: Foreign exchange (Forex) trading carries a high level of risk and may not be suitable for all investors. The risk grows as the leverage is higher. Investment objectives, risk ...
more