Bank Of England Preview: Will The BoE Taper QE?
End 2021: CPI 2.0%, End 2022: CPI 2.25%, End 2023: CPI 2.0%
BoE Officials Appear to be in No Rush to Apply Brakes on Stimulus
Judging by the limited BoE commentary, policymakers appear to be cautious in looking to reign in stimulus, despite the improvement on the UK backdrop, and thus raises the risk that the BoE could wait until the June meeting to taper QE purchases.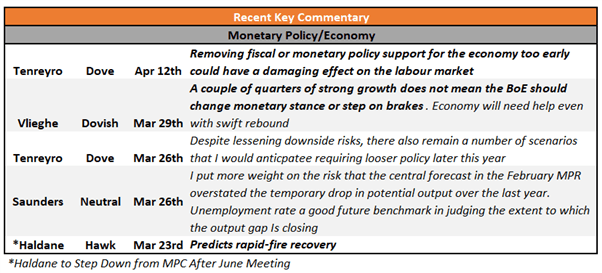 Source: BoE, Refinitiv
Market Reaction
Given that markets are seemingly 50/50 as to whether the BoE decides to taper QE purchases, there are good two-way risks for the Pound. That said, in terms of positioning, fast money accounts are long GBP/USD and so too are real money, which suggests that asymmetrically, a disappointment on the taper front has the propensity to result in a larger move on the downside. As it stands, GBP/USD ATM overnight implied volatility suggests an implied move of +/- 0.5% (or 70pips). My view is that the BoE announces a taper, although the BoE is likely to downplay this as a hawkish shift and instead highlight that it is a mechanical unwind.