Bank Of Canada To Hold Fire, But Not For Long
Monetary policy: the BoC will almost surely hold fire tomorrow, but the language will tell us more about the future policy path. We continue to expect the BoC to cut rates early next year and, in line with this view, we assume the Bank will not display any hawkish tilt in its policy message tomorrow. Markets are not pricing in any easing, so the risks for the CAD in this regard seem slightly tilted to the downside before the meeting.
Trade wars: the US-China trade deal is facing a number of hurdles and may be delayed to 2020. In that case, the question remains whether President Trump will implement the tariffs in two weeks' time. The US protectionist moves of the last few days towards European and South American countries don't seem to bode well for the global sentiment and growth outlook.
Oil: the OPEC meeting this week has three possible scenarios (see our commodities team preview here): a) An extension of the current output cuts deal and the announcement of deeper cuts (positive for oil prices); b) An extension of the deal but no deeper cuts (likely mildly bearish for oil); c) No extension of the output cut deal (highly bearish impact on oil).
While all these factors tend to suggest a downside-tilted balance of risks for CAD in the near term, it must be considered that the loonie remains the most attractive carry currency (on a risk-adjusted basis) in the G10 space at the moment. This means that barring a major re-escalation in trade tensions and a sizable risk-off reaction in the markets, the pursuit of attractive returns may put a floor below the Canadian dollar. Do note that a rate cut by the BoC should not, in our forecasts, dent the leadership of the loonie in the G10 space in terms of risk-adjusted carry, as you can see in the chart below.
Fig 1 - CAD rate advantage immaculate even if BoC cuts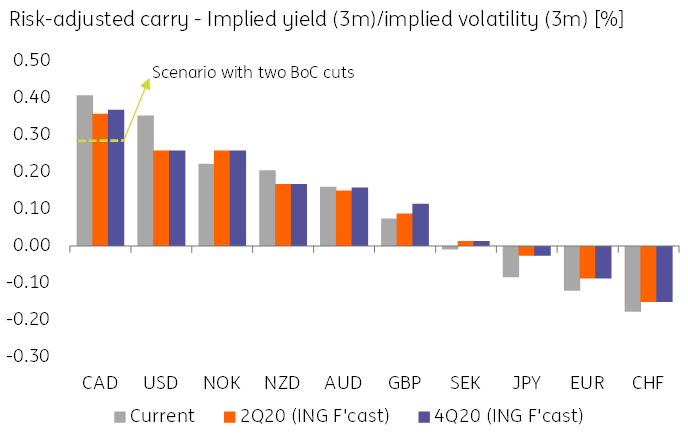 Source: ING, Bloomberg
The information does not constitute investment recommendation, and nor is it investment, legal or tax advice or an offer or solicitation to purchase or sell any financial instrument. more